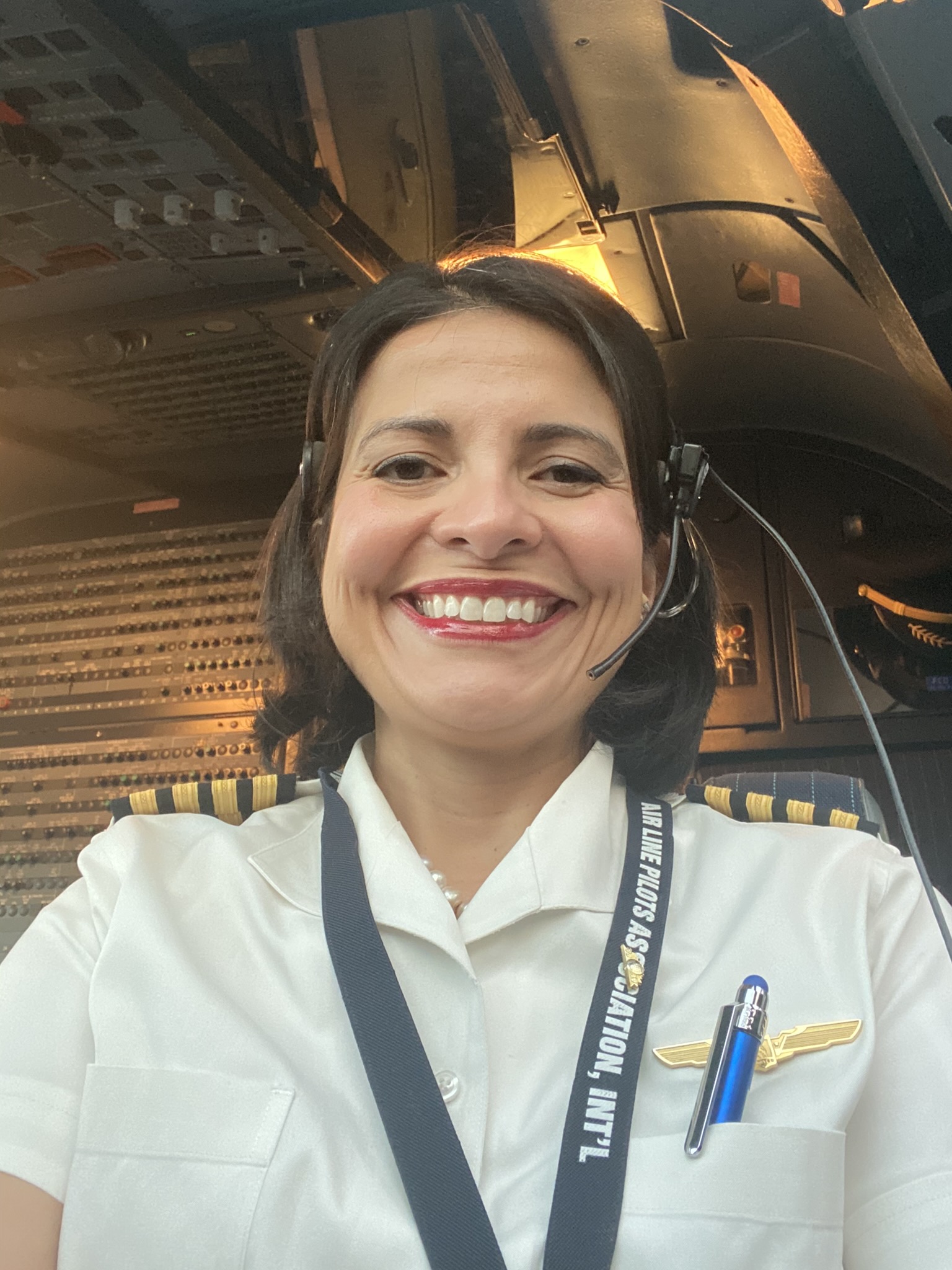 Airline Captain at United Airlines
Career & Education - selected:
- Captain, United Airlines
- Member, Latino Pilots Association 
- Member, Women in Aviation International
- Member, International Society of Women Airline Pilots
I am the Pilot in Command of every flight I work. I am ultimately responsible for the safety of the passengers and crew members. I coordinate with various work groups to ensure that safety, efficiency, and reliability are never compromised. My top priority is to get our passengers to their final destination in a safe and timely manner while making their flight enjoyable.
WHY DID YOU CHOOSE THIS FIELD?
When I was 8 years old, my father started working for an airline at the Newark airport as a cargo specialist. My mother and I would take him dinner every night he was working. I would sit in the back seat and watch airplanes take off and land and think "what a magical thing to be able to fly". I had never met a female pilot, much less a Latina pilot at that point. Many years later I worked at an airline in Orlando, Fl as a reservations agent and then as a crew scheduler. It was there that a couple of pilots I had befriended took me on a discovery flight. I loved the freedom and sense of wonder I experienced. Finding out the cost of earning the certificates and ratings to become an airline pilot tempered my excitement. It was alluded to that due to my gender it would be very difficult to get to a major airline and the most I could hope for was flying "puddle jumpers" around. I was later hired by another airline as a flight attendant and I began seeing and flying with more female pilots. While many came from the military, there were quite a few that had civilian backgrounds. When I told them I wanted to pursue my dream of becoming an airline pilot, these women encouraged me and helped me create a plan of what it would take to accomplish my dream. I have taken that plan revised it several times due to September 11, the Great Recession, and now COVID-19. I wouldn't trade a single minute of it.
Surround yourself with people that support you 100% on your journey.
WHAT DO YOU LOOK AT & THINK, "I WISH YOUNGER ME WOULD HAVE KNOWN THIS WAS POSSIBLE?"
"You can't be what you can't see" Marian Wright Edelman

When I first learned that I had been awarded a Captain position in July 2019, I promised myself that I would make myself even more visible to young girls, especially young girls of color, so that they could believe in their dreams. Representation matters. I often wonder what would have happened if 8 year old me had met a Latina pilot that looked similar to me, had a similar background, spoke Spanish in her home with her family, liked all the same delicious food and rich traditions that are hallmarks of our culture? If I had heard the whispers of 'sí se puede' which means 'yes you can'?
I will never know what would have happened but I know what I can do right here and right now: Be that Latina pilot that little girls look up to and believe 'yes I can and I will!'
WHY DO YOU LOVE WORKING IN STEM?
I love the challenges and adventures that come from working in a STEM career. In my particular profession, I have the best office view in the world. I can't name one thing I look forward to because there are so many wonderful things about my career. If I have to get up very early for a flight, I look forward to the beautiful sunrise I know I will witness. If I have to fly late in the evening, I get to witness the breathtaking sunsets. Flying late at night let's me see the billions of stars in the Milky Way and I realize of how small and fragile we really are.
BEST ADVICE FOR NEXT GENERATION?
The most important thing is to surround yourself with people that support you 100% on your journey. Ask several women to mentor you along the way. They'll be able to give you advice on how to navigate the numerous obstacles that will seem insurmountable. Join associations that align with your beliefs and network with these individuals. Most importantly, it is never to early for you to mentor young girls and the women behind you to give them the hope that this field is worth joining and that there is space for women in STEM.
"You can't be what you can't see" - Marian Wright Edelman

"We realize the importance of our voices only when we are silenced" - Malala Yousafzai