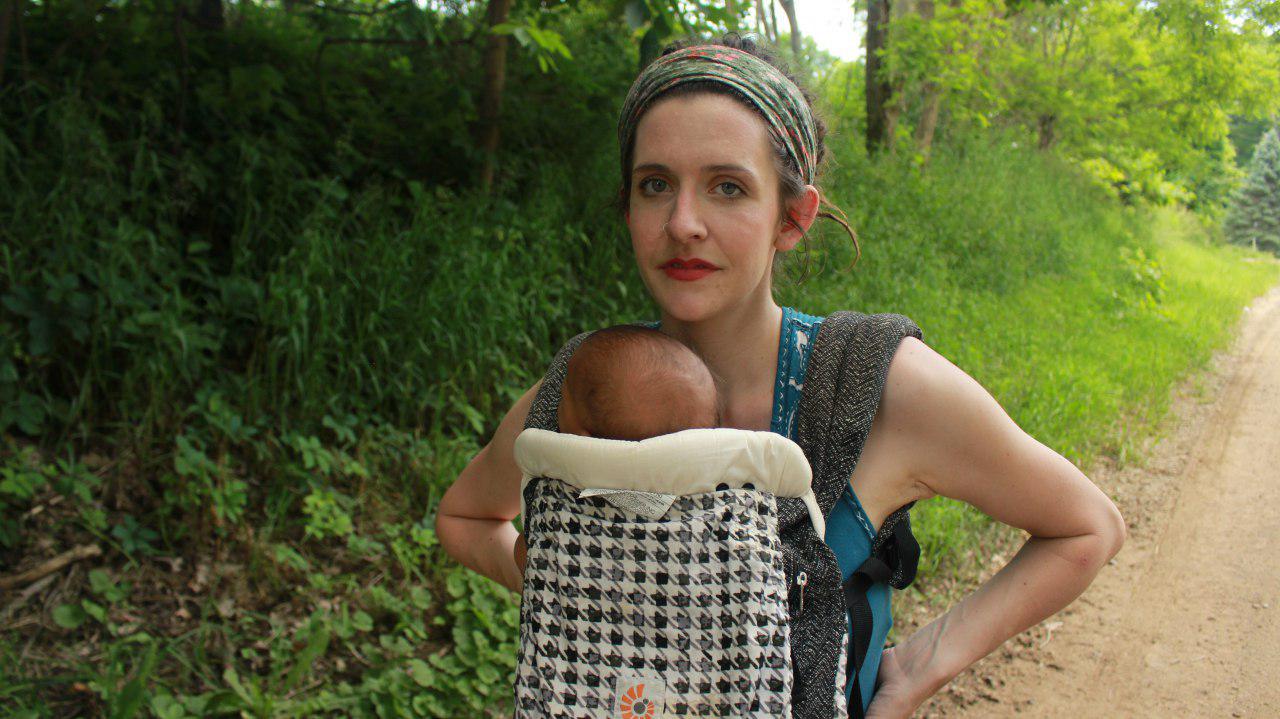 Career & Education - selected:
- Co-owner & Creative Director, Mitten Pixels LLC
- Designer, art director, game designer & STEM educator
- Expert 3D animator & mixed reality & augmented reality expert
I design video games, so that involves all kinds of 3D modeling and styling along with all kinds of visual scripting to develop AI systems that make games interactive. It also involves a lot of storytelling - not just in words, but in creating the little details within a game that brings the story into the living timeline of the game.

My husband and I teach STEM Video Game Development Workshops together and our goal is to bring our program to as many students as possible; it is especially important to us to create opportunities for women and minorities to get a chance to experience hands-on video game development, learn real skills and pave the way toward STEM careers and entrepreneurial endeavors.
WHY DID YOU CHOOSE THIS FIELD?
I was really fortunate to have a dad who is really into technology and introduced me to computers at an early age. I was born in 1988 and most kids my age didn't get to play with and experiment with computers back then, so I think that was really an outlier for me.

Plus, I was homeschooled, so my parents really encouraged me to dive deep into studying things that caught my interest and I think I got a lot more support from them in that than most people do. By the time I was 14 or so, I'd started developing websites and exploring the graphic design realm. I studied traditional and experimental animation at a traditional art college and worked my way through different positions at a few ad agencies and when my now-husband Elijah and I met working at one of them, we quit together and started working with the film industry and doing film posters and VFX.

It was around then that I got really interested in creating more in the 3D space and started getting serious about my 3D modeling and character development skills. Just after our daughter was born, I was up late one night and started watching Augmented Reality tutorials on YouTube one night. It really blew my mind and I stayed up exploring all of the new ways I could bring my characters to life. When my husband woke up the next morning, I presented him with a working Augmented Reality android app where if you pointed your camera at a dollar bill, a 3D dragon would walk around on it. (here's a video I made to show her what I'd stumbled on)

That day was a really major sort of revelation/turning point to me. I knew that I could bring anything to life, that finally anything I could imagine, I had a way to create it. So I put my complete focus on video game design & interactive development from there on out and Elijah did too. We just went totally crazy with it and we learned how to build Artificial Intelligence, how to animate things to feel alive, how to create characters that interact with their environments... it all just sprung from there.

We were working on our own productions and then doing projects for private clients and then eventually we began teaching to a handful of local students and our program has just grown exponentially from there. It has taken a lot of hard work and sacrifice and it was worth every bit of it.
Explore your weird ideas. Jump on interesting opportunities and follow your dreams. Don't give up. You've got this.
WHAT DO YOU LOOK AT & THINK, "I WISH YOUNGER ME WOULD HAVE KNOWN THIS WAS POSSIBLE?"
It has been nothing short of overwhelmingly beautiful to see how many people are excited to explore STEM and jumping at the chance to do one of our Video Game Development Workshops. I'm thankful to be in the right place at the right time to get to do the work that I'm doing in a way that's really digestible for people, and if I'd known earlier in life what I'd be doing, I think I would've gotten into 3D modeling and studying the logic behind Artificial Intelligence a lot sooner. But in a way, I really feel like my entire life has led to this and I think that if any of the variables leading up to this point were different, I probably wouldn't even be doing this, so if I could tell my younger self anything, I wouldn't tell myself to alter the course of things - I think it would be more along the lines of "hang in there, stay positive and stay focused!"

Here is my advice: if you or someone that you know is intently focused on creating that thing or learning that thing that they're obsessing over, encourage them. Be encouraged. Share your knowledge. Explore your weird ideas. Jump on interesting opportunities and follow your dreams. Don't give up. You've got this.
WHY DO YOU LOVE WORKING IN STEM?
I love it because I get to see worlds from my imagination come to life every day. I love that I'm doing something with my life that can inspire and empower my sisters to explore their gifts to the limits and I love that I'm building a world where my daughter will be able to achieve anything she can dream of.
I wake up every day looking forward to seeing what thing from my imagination I'll be able to bring to life and see with my own eyes that day. One of my favorite parts of the day is when my husband and I sit and drink our morning coffee and talk about the crazy stuff we're planning on testing out that day.
BEST ADVICE FOR NEXT GENERATION?
Don't wait until you get to high school or college or some other pre-determined level in education to start exploring STEM. It has absolutely nothing to do with age in that way, and there is so much to explore. Go look stuff up on YouTube, try out experiments of your own imagining, read books. Explore your curiosities. We can do it!
"My mission in life is not merely to survive, but to thrive; and to do so with some passion, some compassion, some humor, and some style." - Maya Angelou