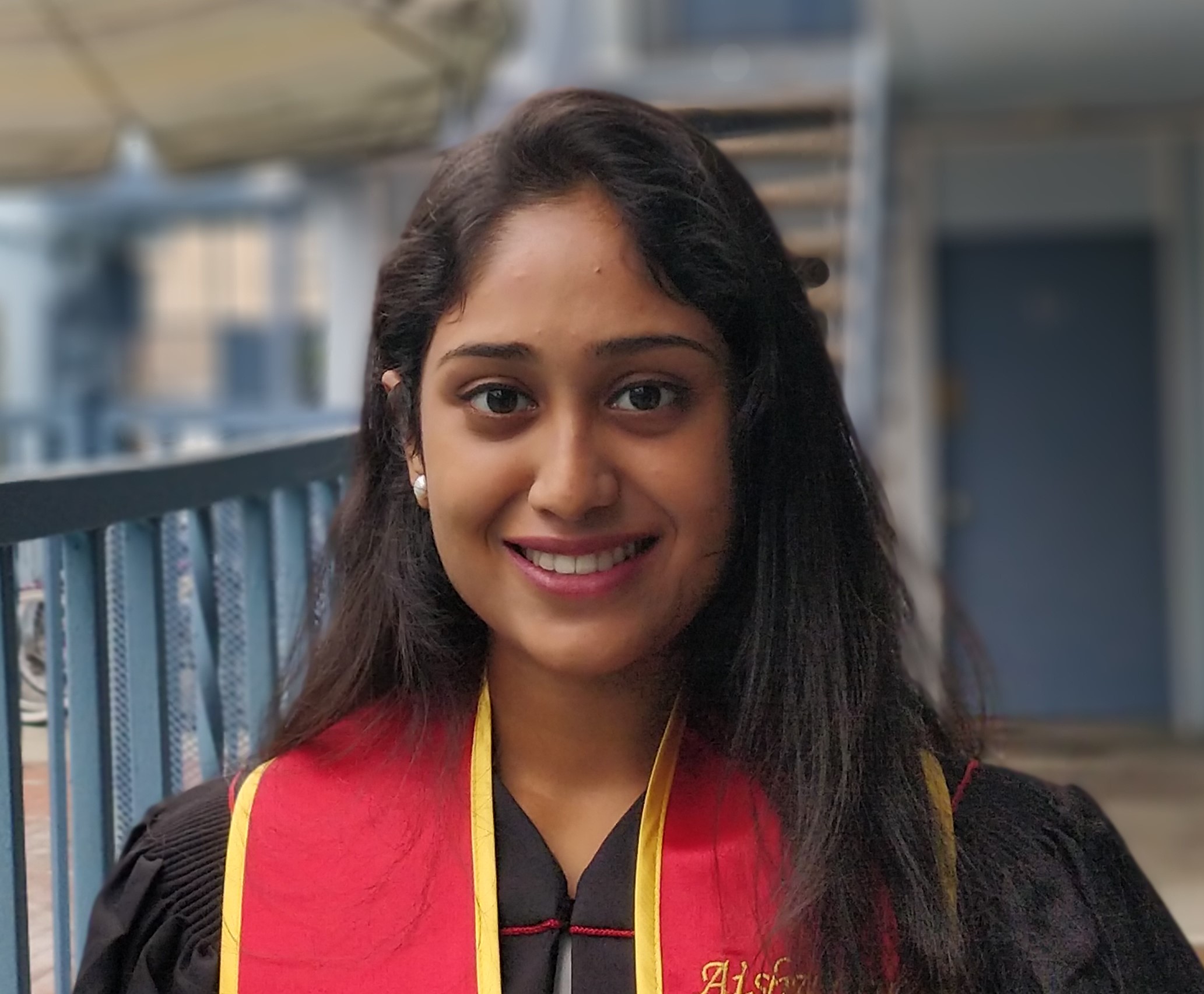 Aishwarya Kyathasandra Manjunath
Memory Design Engineer, Intel Corporation
It's not a bad thing to not have all the answers, because then you start asking the right questions.
I am a Memory Design Engineer at Intel Corp. I design SRAMs and Register Files (RF) that make up the Compiled Memory Arrays for Intel's latest generation ATOM CPU Core. My team uses Intel's own Silicon to make these memories which power the CPU, so as a result the memories I design decide the performance of the CPU core that Intel manufactures.
WHY DID YOU CHOOSE THIS FIELD?
I got my undergrad degree in Bachelor of Engineering in Electronics Engineering in the city of Bangalore in India. Then I went on to get my Master of Science degree from the Viterbi School of Engineering at University of Southern California in Electrical Engineering & VLSI Design. In September of 2017 I met Dr. Andrew J. Viterbi (highly regarded USC Alumnus & co-founder of Qualcomm) at an on-campus event where Dr. Viterbi was being inducted into USC's Wall of Fame at the Ming Hsieh Institute of Electrical Engineering. When I had a chance of speaking to him I asked him about his views on Moore's Law of transistor size shrinking and if it will really bring an end to the VLSI industry; he looked at me very calmly and replied "My child, the field of science & technology is evergreen and will stay that way as long as you believe so in your heart." That moment meant a lot to me as a starry-eyed university kid who had big dreams. I still believe in what he said and that was a defining moment that led me to choose the career path I am on today. He became my role model. Eventually in my last semester of 2019 I went on to score an internship as a Physical Design Engineer at Qualcomm, and while I was there I attended an event where Dr. Viterbi gave a talk. It felt like my life came a full circle. I then decided to pursue a career which involved more silicon-based design, and that made me chose the current job I am in, which is Memory Design. And since Intel is one of the few standing American companies that design their own custom memory compilers, it was a clear choice.
WHAT DO YOU LOOK AT & THINK, "I WISH YOUNGER ME WOULD HAVE KNOWN THIS WAS POSSIBLE?"
The younger me would have never thought it was possible for me to score two internships in tech companies and receive full time job offers from Intel, AMD, Qualcomm and Synopsys. It still sounds unbelievable!
WHY DO YOU LOVE WORKING IN STEM?
I love working in STEM because in today's world where the biggest innovations and creations in technology are paving the way for modern sustainable living, I get to be one of the million women in STEM who are at the fore-front of it. I wake up looking forward to apply my learnings as a graduate girl in tech to my work and hopefully make a difference.
BEST ADVICE FOR NEXT GENERATION?
Everything around you that you call life was made by people that are no smarter than you. So it's not a bad thing to not have all the answers, because then you start asking the right questions.
'Just remember, whatever has been done can be outdone.' - Gordon Moore