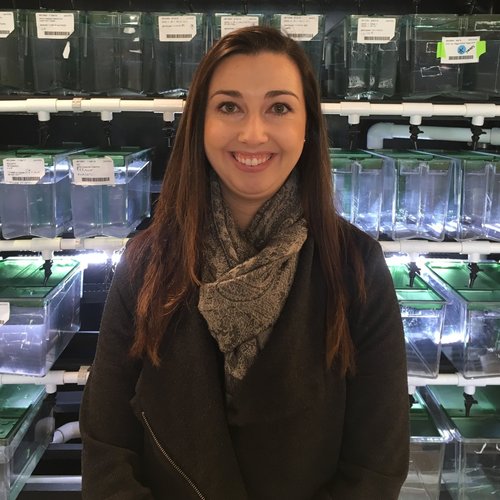 Postdoctoral Fellow, Massachusetts General Hospital, Harvard Medical School
Don't be afraid to put yourself out there! Networking is key, even at a young age.
I am a research scientist who studies pediatric cancer using various animal and human models. We are trying to cure pediatric cancers!
WHY DID YOU CHOOSE THIS FIELD?
I was lucky enough that my parents are both doctors as well. I was introduced to scientific thinking at a young age, and at first didn't want to pursue the same subjects as my parents (typical teenage thinking!). My mom (who is a cancer pharmacologist) got me my first summer internship in a lab when I was in college, and I was hooked! Literally, I worked in a zebrafish cancer lab and haven't looked back since.
WHAT DO YOU LOOK AT & THINK, "I WISH YOUNGER ME WOULD HAVE KNOWN THIS WAS POSSIBLE?"
Honestly the research that I pursued to achieve my PhD has been the shining moment of my career so far. We were able to test new drugs in my animal model of brain cancer, and these drugs ended up in clinical trials. When you sit at a bench most days, it's hard to think about how you affect patient outcomes. While I knew I didn't want to be a medical doctor, I wish younger me would have known that I could still help people while pursuing an advanced degree outside of the hospital.
WHY DO YOU LOVE WORKING IN STEM?
I love working in STEM because of the change that I get to affect. Like I have said before, I have now helped get 3 drugs into clinical trials for incredibly dire patient groups (brain cancer and pediatric cancer). This is our ultimate motivation as scientists in our field. I wake up looking forwards to the next big experiment and the next big paper that will help these vulnerable patients.
BEST ADVICE FOR NEXT GENERATION?
Don't be afraid to put yourself out there! Networking is key, even at a young age. Take the advice of your teachers and mentors and don't be afraid to ask for help either.
I am a dual citizen of the United States and Italy! I love watching soccer (Go Inter Milan!) and American Football (Go Buckeyes!).