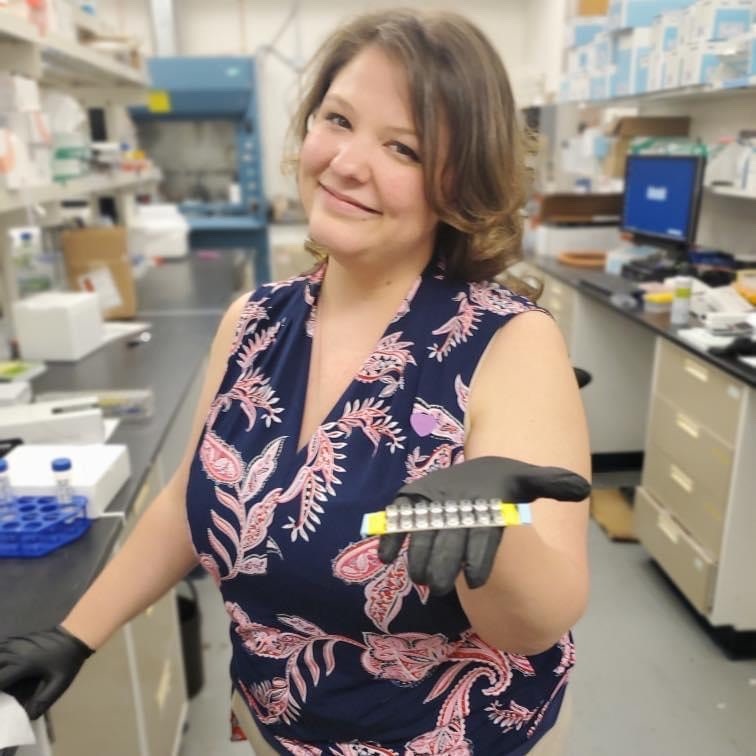 Graduate research assistant
Dept. of Chemistry
University of North Carolina at Chapel Hill
STEM is a field for the curious.
My research is in the field of proteomics, where I use mass spectrometry to better understand the post-translational modifications that regulate biological pathways. Most of my work is with the unicellular alga Chlamydomonas reinhardtii. Chlamydomonas is a model organism that can help us better understand the agricultural impacts of climate change, the efficacy of carbon capture, and the mechanisms through which biofuel production can be optimization.
WHY DID YOU CHOOSE THIS FIELD?
I went to college at 25 for biology, hoping to get a degree that would give me better job prospects. In my first year I took a freshman chemistry class with Dr. Derrick Kolling, and quickly asked to join his research group. Working with Dr. Kolling dramatically changed my trajectory and brought me to where I am today. On top of inspiring my switch to biochemistry, he also encouraged me to think creatively and gave me a lot of research independence. Together we would brainstorm new ideas and would troubleshoot when problems came up in our studies. He always treated me as a colleague, rather than subordinate, and it was through this relationship that I realized I wanted to continue in this work for the rest of my life. I stayed with Dr. Kolling's lab through my B.S. and M.S., and although I am now pursuing a Ph.D. elsewhere, we continue to collaborate and discuss our research regularly.
WHAT DO YOU LOOK AT & THINK, "I WISH YOUNGER ME WOULD HAVE KNOWN THIS WAS POSSIBLE?"
Younger me was convinced that I was just "bad" at all things math and science. After taking chemistry as a sophomore in high school, I said that I would never take another chemistry class again! Younger me would have never believed I would some day have a master's in chemistry or have published original research.
WHY DO YOU LOVE WORKING IN STEM?
I am constantly excited and inspired by the thrill of the unknown. I love the ability to both ask a question and then propose and implement the experiments to help find the answer. This excitement is exponentially increased by getting to work with other brilliant scientists. Although it seems strange, some of my favorites memories of my time in STEM has been getting into disagreements with other researchers. The back-and-forth discussion that occurs is so intellectually engaging and often results in even better ideas and understanding than anyone originally brought to the table.
BEST ADVICE FOR NEXT GENERATION?
STEM is a field for the curious. If you find yourself looking at the world around you and wondering how or why it works the way it does, then STEM is for you. More important, STEM research in particular is improved immensely through the incorporation of unique experiences and perspectives. You bring something to the table that no one else has and that is incredibly valuable.
"It's never too late to be what you might have been."
- Mary Ann Evans (pen name: George Eliot)