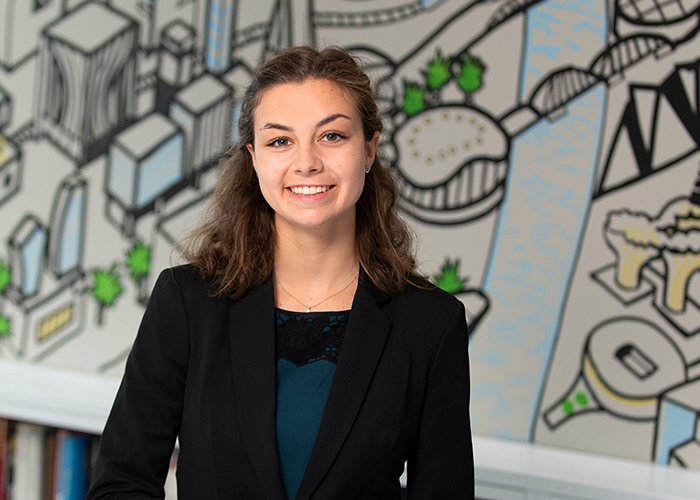 Graduate Student, Stanford University
STEM is an insanely broad and diverse field, and it intersects with any other interest you might have.
I study structural engineering--a kind of engineering that works closely with architects to design the built environment. We design buildings and other infrastructure to withstand everyday loading as well as natural disasters such as hurricanes, blizzards, and earthquakes. Since there is a lot of uncertainty in these events, I also study risk analysis and resilience. Resilience work aims to predict the outcome of natural disasters at either the building or community scale, and then make decisions to improve the ability of the community to recover.
WHY DID YOU CHOOSE THIS FIELD?
There's been lots of influences throughout my life steering me in this direction. Growing up, I liked physics and art, and as I appreciated architecture around the world I knew that I wanted to work on shaping the built environment. Then, when I was in college I joined a project team of undergrad students working on the design of sustainable schools in Ghana and Nepal. This four-year endeavor was fundamental to my career aspirations, as it showed me that it was possible to work at the intersection of engineering, environmentalism, and social impact. Since then, I've spent time volunteering and working for an affordable housing nonprofit and become further exposed to how urbanism and policy can be integrated to a holistic vision of a built environment that prioritizes the most vulnerable.
WHAT DO YOU LOOK AT & THINK, "I WISH YOUNGER ME WOULD HAVE KNOWN THIS WAS POSSIBLE?"
Getting a full ride to Stanford was a moment of euphoria I'll never forget. I truly felt that my sometime stubborn work ethic had paid off. Recognition isn't why you do the work, but it does feel good!
WHY DO YOU LOVE WORKING IN STEM?
I love feeling like I'm part of a community that genuinely wants to do right by the world, to put our brains together and envision a better future--and then tangibly work towards it.
BEST ADVICE FOR NEXT GENERATION?
STEM is an insanely broad and diverse field, and it intersects with any other interest you might have. You don't need to be a math genius or a science nerd to find your place here--I've met so many women who've inspired me, from so many different backgrounds, with so many different personalities. There is a place for you here, and more importantly, the only way that we can work towards an equitable future is to have a diverse team working on that vision. That means more girls (and nonbinary folks) in STEM!
"If you want to change the world, change your buildings!"