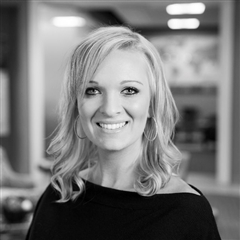 Director of Design of Domestic Casegoods at Ashley Furniture
We need women in this field!
The job here is very complex. We design and develop products to be something people want to buy because it fits their style, it fits their price, and it is quality they expect. In order to meet all these expectations, we have make sure we do our research and follow trends. We also have to make sure we engineer the product to have little waste and it's easy for our assembly lines to build. This is how we make the price affordable and the consumer doesn't pay for things they don't find value in. We design, we engineer, and we sell our product. All this is the responsibility of a product developer at Ashley Furniture.
WHY DID YOU CHOOSE THIS FIELD?
There was a definite moment I realized the Industrial Design was the field I belonged in. I was creative, but strategic. I always found flaws in products. I always knew how to make products better, whether it is a better function or a better design. I have high expectations with products I spend money on, and when I realized that, I also realized I have to power to influence that. If you often, see an issue with a product, and you know how to fix it, this is the field for you.
WHAT DO YOU LOOK AT & THINK, "I WISH YOUNGER ME WOULD HAVE KNOWN THIS WAS POSSIBLE?"
Here's the thing, I don't think I would go back and tell the younger me anything. I think growing up and battling the feelings of self doubt and whether or not things are achievable, is what causes someone to grow. If I knew the things I have achieved today were possible, I don't think I would have tried as hard as I did to accomplish them. I like to prove myself wrong at times, it breaks the boundaries of what I believe is possible. Things I have achieved are among, moving to china and living there for a year and half, managing people in china with a language barrier, leading an entire furniture trend in our Ashley Homestores, creating environments at shows that "wow" people, designing a record breaking bedroom set in sales, leading a design team everyday and much more. I don't want to know what the future holds for me, because I want to be able to explore what is possible.
WHY DO YOU LOVE WORKING IN STEM?
I love working in STEM because it allows me to produce products people love. When design and manufacturing come together it creates a beautiful product for everyone involved. I look forward everyday to influencing my designers, our engineers, our builders, our sales team, and our consumers. The cool part of our job is we get to influence the entire organization and outside Ashley.
BEST ADVICE FOR NEXT GENERATION?
We need women in this field. It is still a male dominated field. Don't be intimidated by this. We need that insight and those thoughts brought to the table when we design and manufacture items.
"Life isn't about finding yourself, it's about creating yourself"