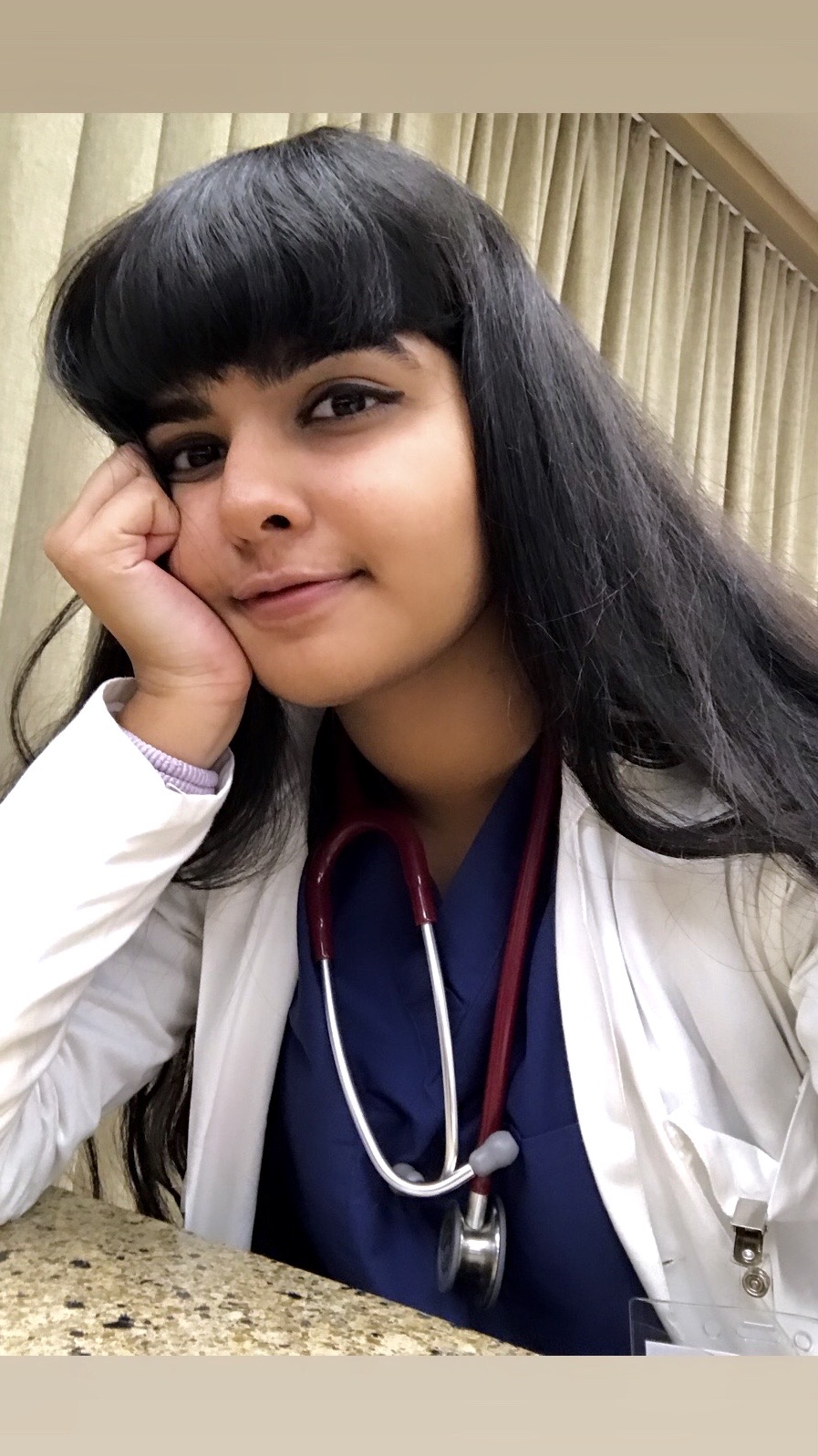 Final Year Medical Student, Bharati Vidyapeeth Deemed University Medical College
STEM needs you. The world needs you.
I am a final year medical student, currently in my final semester of medical college, after which I shall have my medical degree. We have clinical rotations in all medical departments as a part of our curriculum, but even apart from that, I am actively involved in social service and clinical research. I have 4 internationally published research papers that aim for the betterment and holistic treatment of patients (spanning surgical infections, childhood obesity, the physiological impact of psychological diseases, and the impact and necessity of legislature for the same.) I am also a content writer and creator for an NGO called Young Ignited Minds Foundation, with whom I host a biopsychosocial podcast, as well as an Associate Editor for the YIMF Academia Journal of Social and Legal Research. I strongly believe that social work must go hand in hand with work from the grassroots to active change.
WHY DID YOU CHOOSE THIS FIELD?
My grandfather and aunt are both doctors. One wouldn't believe it (but I have photographic evidence) but Medicine is my One True Love...that I have always known, from when I was just a year old, and sitting in my grandfather's clinic, with his stethoscope on, ready to see patients. Ever since I have been a young girl, I have been in awe of Medicine, the power of Healing, and how that knowledge is actually a superpower that helps you save countless lives. With the knowledge that one possesses (of medical science), there is so much change that can be brought about...so many people one can help. A little over 2 months ago, my grandfather passed away. The love for medicine that I have, because of his stories and all the kind deeds he has done in his life- is the greatest gift he could have ever given me. His face used to light up when he realized that his small chubby granddaughter could now speak and understand his language...terminologies that she used to quiz him about...we could now discuss. As a doctor, he was incomparable. I have never seen a surgeon more empathetic, kind, ethical, and generous towards his patients and I have learned so much about the ways of a doctor's life, and life from him. There are people in all our lives who inspire and change us. sometimes if we're really fortunate, our role models are family and they help us grow to become better people every day. The aspect of Medicine that preaches service before self, is the reason I am where I am today. Even whilst collecting data for one of my research papers, connecting with and helping the patients (without whose blessings, I know for sure I wouldn't be here today) was my favorite thing of all. I hope and pray and continue to work hard in order to be able to do Justice to this profession and the community of humanity, to share love, healing, and kindness with everyone.
WHAT DO YOU LOOK AT & THINK, "I WISH YOUNGER ME WOULD HAVE KNOWN THIS WAS POSSIBLE?"
During my clinical postings at a rural slum dwelling in Pune, where I was taking a public health survey of several families over 2 months, something that I will never forget would be...2 little girls- Varsha and Reshma, all of 12 and 7, tugged on my white coat and said "We want to grow up and be just like you. A doctor. Save lives. We go to school every day and do our homework every day too. We want to be like you." My eyes welled up and I embraced them, as I truly felt a hug to my heart and a reminder that I was doing this- for them. For the achievement of Universal Health Coverage, for their dreams to not be limited because of where they come from...for them. The recognition that I may be someone whom these little girls can look up to and emulate, would make an 11-year-old Ankita feel the most fulfilled of all. Apart from that, academically, I once placed 1st presenting my paper on the physiological effects of psychological illnesses on respiratory disorders, at an international conference with over 11,000 participants and the impact that it had was something I still pinch myself for. Mental Health oft goes unnoticed in the clinical world of medicine but is integral, and that was only a few steps into my journey for the integration of the same into patient treatment protocol, but it would make a younger me, happy, to be fighting for the rights of one and all.
WHY DO YOU LOVE WORKING IN STEM?
Our lives are interconnected due to science. STEM is the one field that also requires equal parts curiosity for knowledge, a thirst, passion and zeal to learn, as well as a desire to use that knowledge for good. I admire, appreciate, and respect the commitment that it takes to be in this community and am honored that every day I get to wake up looking forward to saving lives. My Ekigai.
BEST ADVICE FOR NEXT GENERATION?
STEM needs you. The world needs you. The Avengers, in reality, have been women that we have been looking up to for aeons! Marie Curie, Rosalind Franklin, Amelia Earhart! Being a woman is being a superhero. When I was 8 years old, for a school homework essay titled "If you could go back to the past and meet someone, who would it be?", I wrote about Amelia Earhart. I had read about her in an encyclopedia and I was blown away by how empowering her story was. It felt incredible to have such a strong female figure to look up to and write about. I wrote about how she would tell me to be myself, teach me to fly a plane, and also...overthrow male chauvinism and patriarchy. But I ended up scoring much lesser than everyone else. I remember asking my English teacher why it had to be so when I was quite self-aware (and I mean this in a less-cocky manner) about my flair and love for writing, and she said: "Because i expected more from you, maybe writing about Gandhi or Nehru." I remember feeling terrible but more importantly, angry...as I walked away. That single experience made me realize HOW important feminism was, and why speaking up mattered. This wasn't an Indian patriotic-themed homework essay, had I perhaps written about Sarojini Naidu, I might have received the same reaction. Why do we all have to be conditioned to look up to Male figures in history, when we have so many exemplary women rockstars to emulate and admire? I look back at that incident with anger, but at 8 years of age, I learnt that glass slippers don't matter, glass ceilings do. and I strive to pass that message on to all the young girls I'll ever meet and together, we break it. I'm going to keep it real- Part of the problem is- we let the doubts of others in us, drag us down. We should not focus on just our difficulties- we should focus on our strengths and make them better. We should work so hard and so smart, that all the aspects of our character, that make us Legendary- would be undeniable. Unstoppable. Believe in yourself- there is no stronger power, no greater driving force, or love. Women have been the leaders of yesterday, will lead today, tomorrow, and forever. Because, we have big brains, sure! But we have a whole lot of heart- and that makes all the difference.
"Some of us have great runways already built for us. If you have one, take off! But if you don't have one, realize it is your responsibility to grab a shovel and build one for yourself and for those who will follow after you. There's more to life than being a passenger." - Amelia Earhart