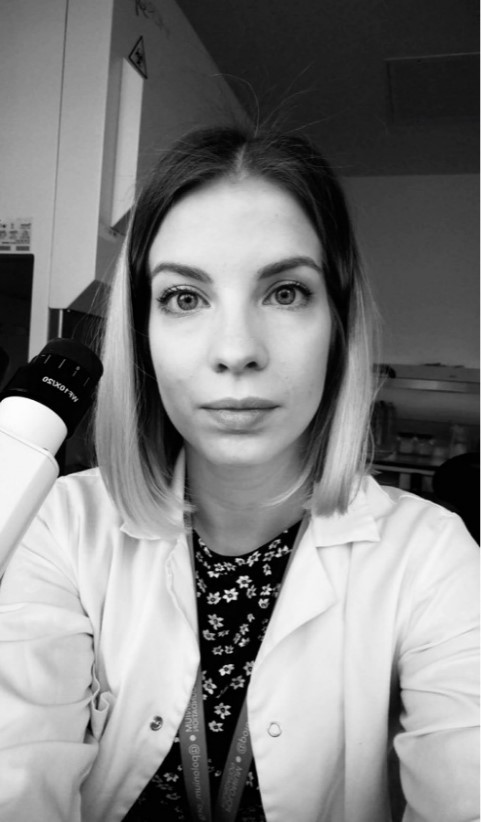 PhD Candidate
Institute of Medical Biotechnology and Experimental Oncology,
Intercollegiate Faculty of Biotechnology UG-MUG
Be a dreamer.
Do what makes you happy!
My PhD project focuses on the interplay between breast cancer cells and their surroundings. For decades scientists thought that the only villains in cancer are cancer cells themselves. However, emerging evidence shows that they can recruit body cells to support them in disease progression. The most abundant cell type in this tumour microenvironment are cancer-associated fibroblasts and they became my object of interest.
WHY DID YOU CHOOSE THIS FIELD?
I think that the first time when I got amused by life sciences was when I was about six. It was a winter evening and I was supposed to be sleeping. Instead, I sneak into the living room to see what my parents are doing. They were watching a film. There was an interesting character. A woman, not a typical girly figure you would expect, but a woman-scientist. Wow, I thought, now we are talking. She was bold, intelligent, confident. That is the kind of woman I want to be!
As I grew up I was always interested in the human body, how does in work, when it refuses to work, how to fix it? My parents supported my never-ending curiosity with books, models and "little doctor" toy kits. The idea, that a human mind can generate a tool to save other people lives was amazing!
That is why I started my scientific journey. During my Master's studies, I was focused on the different kinds of apoptosis induced in lymphoma cells. After graduation, I worked as a Junior R&D Specialist as a part of the team focused on the discovery of the new compounds to treat allergies and prolonged pain in patients. After a year, I decided to start a PhD studies as a way to develop my ambitions in medical sciences and become a motivated and dedicated young scientist.
WHAT DO YOU LOOK AT & THINK, "I WISH YOUNGER ME WOULD HAVE KNOWN THIS WAS POSSIBLE?"
There was a time when younger me wanted to meet social expectations more than to follow her own dreams. She was supposed to have a good job, a husband and kids, be a perfect housewife and work full-time at the same time.

Liberating from this harmful way of thinking I can now be more open-minded, think better and that means do science better. In my opinion, a good researcher is obliged to have a broad spectrum of thinking.

Society loves to put us into boxes and I think that only when we crawl out of them, we can be truly free, happy and curious.
WHY DO YOU LOVE WORKING IN STEM?
Oh, I think that the best thing in working in STEM is being a child. Yes, you read it right ;) A child who wants to question everything, who is searching for an explanation, who believes that everything is possible. STEM is a big playground for adults :)
BEST ADVICE FOR NEXT GENERATION?
Be a dreamer. Do not think that STEM is hard, nothing is hard when you are interested and excited about it. Be curious, be childish, be feminine.
Do not fall in this all "this is for boys" nonsense.
Do what makes you happy! :)
"There are only two ways to live your life.
One is as though nothing is a miracle.
The other is as though everything is a miracle"
A. Einstein