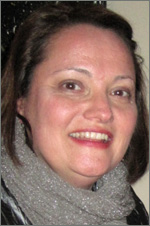 Director of Education and Outreach, New American History, University of Richmond

Learn something new about yourself or the world every single day.
My role is to create engaging learning resources for students and professional learning opportunities for educators to enhance the teaching and learning of American history and geography.
WHY DID YOU CHOOSE THIS FIELD?
I view my journey as an Educator Explorer. I was a curious kid and loved learning. I had great teachers who fostered my passion for history and geography,and a family who valued education. Early in my classroom teaching experience I discovered the VA Geographic Alliance, part of the NatGeoEd network and became part of a family of educators who promote GeoLiteracy.
WHAT DO YOU LOOK AT & THINK, "I WISH YOUNGER ME WOULD HAVE KNOWN THIS WAS POSSIBLE?"
I consider my life and career as a journey. My 21 years as a classroom teacher allowed me the privilege of learning alongside my middle school historians and geographers. A decade as a curriculum specialist gave me the leverage to help shape public policies about how we teach and learn about the past and our world. Now I'm able to help prepare the next generation of educators and students to harness the power of technologies like GIS and digital media to solve real world problems and support their communities.
WHY DO YOU LOVE WORKING IN STEM?
My current role is literally my dream job come true! I'm able to work alongside educators and students, helping them make connections between past and present, becoming creators of content rather than just consumers. Using Historical Thinking and the GeoInquiry Process helps students prepare to be active participants in their communities and fosters a lifelong love of learning.
BEST ADVICE FOR NEXT GENERATION?
Develop an Explorer Mindset!! Be curious, ask questions, read lots of books, challenge the status quo, take opportunities to travel, listen to other people—really listen! Find people who think differently than you do and find ways to establish common ground. Become civically engaged in your communities and learn something new about yourself or the world every single day.
"Well behaved women seldom make history!"
Laurel Thatcher Ulrich