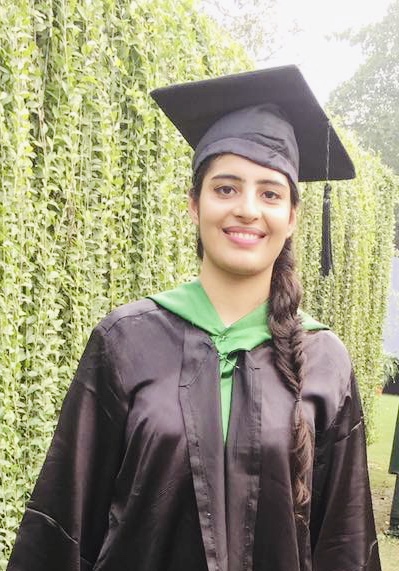 Research Scholar, IIT Delhi
Every girl bears huge potential.
I am an enthusiastic research scholar who has the zeal to work in diverse areas. Currently, I am involved in the syntheses of target molecules in a way that the product is analytically identical to the naturally occurring compounds (natural products). This work not only can be used for structure confirmation but also as a test for new synthetic methodology and sometimes to assist in identifying how the compound is made naturally. Simultaneously, I am engaged in forensic studies of post-blast debris. In addition to this, in leisure time I tried to contribute as much as I can directly to society by teaching underprivileged children and also was designated and in a role of Humanitarian Affairs Peace Ambassadors for the year 2020.
WHY DID YOU CHOOSE THIS FIELD?
As I hail from a village Mandothi, Haryana, India, it was a bit challenging for a girl to live up for her dreams because of the orthodox atmosphere that was there till date. As the people believes in strong patriarchal setup and also in providing less exposure to the outer world to a girl. The village is just 35 km from Delhi but seems to lack far behind in terms of gender equality and the state was also infamous about the lowest child sex ratio. So, in order to break the chains of patriarchal setup, the only thing which clicked my mind in early childhood days was to fetch education which was supported by my parents who left the village and moved to Delhi.
When I was growing up in school, I was fascinated by the science subjects as it opens the door to discovery and inventions. So, I decided to opt for an honours degree in Chemistry from the University of Delhi and masters from IIT Roorkee.
I started as an organic chemist when I entered into a PhD program. In my masters, I was fascinated by the miscellaneousness involved in organic chemistry. After synthesizing many natural products and getting a taste of syntheses. I was on the verge of exploring more. The growing activities of terrorism in India and abroad, especially the Pulwama attack shook me internally and I was helpless in that regard for that moment. So, I thought to enter into the forensic domain & choose to study the unburnt explosive residues from post-blast debris to aid the policymakers in making suitable regulations. Also, currently, I am engaged in studies of energetic materials (active chemical components of explosives and propellants) that have contaminated the soil worldwide either through military conflicts, terrorists' activities, accidental explosions (recently seen in Beirut, Lebanon), militarily training activities, peaceful demolition, mining etc. I believe the remnants of energetic materials pose a serious hazard to public health and the environment. My current studies are an effort in direction of designing a methodology for accessing environmental effect of energetics in post-blast soil so that the soil can be treated well in time and we can strive towards the achievement of United Nations Sustainable Development Goals (UN SDG) like SDG-3; SDG-15 by ensuring the conservation, restoration and sustainable use of terrestrial and inland freshwater ecosystem and their services. The biggest motto behind the zeal of doing more and more is just to encourage every girl child especially belonging to the region that considers them as a liability and nothing more than a burden. I want them to stand up , see and frame their own dreams irrespective of their race, caste, religion & region and just have a life more than ordinary.
WHAT DO YOU LOOK AT & THINK, "I WISH YOUNGER ME WOULD HAVE KNOWN THIS WAS POSSIBLE?"
The very first achievement of mine was being an IITian (in fact a girl from small village will be having two degrees from two different IITs. As being admitted to IITs is a big thing in India). The second was getting paid internship in Academia Sinica, Taiwan. I was the first person in the family to fly abroad and probably the first girl in the village. The icing on the cake was that I was fully sponsored. Then getting IUPAC summer school scholarship which landed me to Italy. Again being selected as peace ambassador made me fly to Bangkok. So, younger me has never been able to dream to fly outside India and had never ever imagined what endless things education could bring to you.
WHY DO YOU LOVE WORKING IN STEM?
The foremost thing in the mind which stays in mind all the time was that girls are no less, just see how they can grab the opportunity and excel in work. Second is let orthodox people realise the girls are not liabilities as many still think that way in my family even today. The third was to contribute maximum back to society as we all the time are bothered by taking from it. Science if exploited judiciously can make the lives of people better and can make a world a better place to live in.
BEST ADVICE FOR NEXT GENERATION?
Every girl bears huge potential. It was frequently suppressed by surroundings. But, to emerge and stand out even in adversities illustrates the strength of female that she posses.
I just want to say to every girl in the world " Frame your own dreams, have your own aspiration, strive for making a better society".
Your entry into STEM may lead you to endless opportunities, exposure, satisfaction and open the door of doing something beyond which you have ever imagined. It's a pandora of discoveries, findings and inventions.
Knowing is not enough, we must apply!