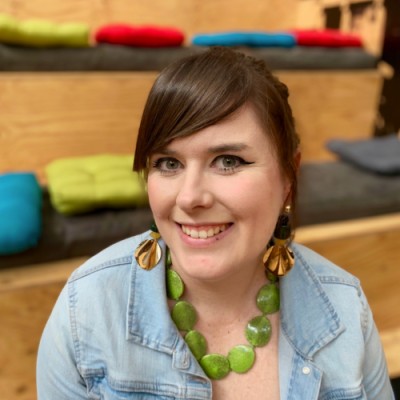 QLD Student Services and Community Manager, Coder Academy
It's okay to have good days and bad days, this is part of the journey we are all on.
I joined the growing Coder Academy Brisbane team in January 2018 as the Operations & Client Services Officer, liaising with current and potential students while also finding ways to maximise their Bootcamp experience. I began to grow a passion for community outreach which has also led me to meeting new people and organisations within the technology space, as well as developing pathways for our students to succeed during their Bootcamp journey and beyond. From April 2019, I am now the QLD Student Services and Community Manager.

Equally, I am passionate about spreading awareness on how neurodiverse individuals are already creating benefits for the companies they work for and how breaking down the misconceptions of neurodiversity is essential for a successful business. I care deeply about inclusivity, diversity and accessibility, particularly within the workplace.
WHY DID YOU CHOOSE THIS FIELD?
I discovered STEM in 2013, where I began learning to code in my spare time. Back then, I was working in Administration. I began my new life path in 2015 enrolling at QUT, Bachelor of Information Technology (Information Systems). Fast forward to 2018, along with many opportunities and challenges, I successfully completed my Degree! During my time as a Student, I was also a Sessional Academic in the area of human-computer interaction. Since taking on this new and exciting journey in technology, I have never looked back and to this day still consider my new life path as the best decision I've ever made.

I chose this field because of the extraordinary opportunities available for everyone. Initially I didn't know what I wanted to do after my Degree, and then I developed a passion for building a community within the Brisbane tech space and I began working at Coder Academy.
WHAT DO YOU LOOK AT & THINK, "I WISH YOUNGER ME WOULD HAVE KNOWN THIS WAS POSSIBLE?"
My biggest achievement to date is more of a continuation, and that is being able to build my confidence and believe that anything is possible!
Before I did what I'm doing today, I had no knowledge about the Women in Tech community and the incredible support that is always available. Not just within my local community, but all around the world! There is growing inspiration no matter where you are, and I have the Women in Tech community to thank for that.
WHY DO YOU LOVE WORKING IN STEM?
I love working in STEM, because every day is always an adventure! From learning to code in my spare time, to running a tech meetup or mentoring at a coding workshop, there is so much to offer! I really enjoy giving back to the tech community as much as possible, it's always a wonderful feeling to be able to help and support each other.
Every day I always try to start my day with a Growth Mindset attitude, and always know that if I ever need support or have any questions I can always ask my mentors or network for guidance.
BEST ADVICE FOR NEXT GENERATION?
It's okay to have good days and bad days, this is part of the journey we are all on. The women in tech community is truly the most supportive and most inspirational community today. Believe that you can be anything you dream to be as YOU ARE YOU. You are unique, you are amazing, and you are incredible.
Don't compare yourself to others, you are a wonderful and inspirational human with so much to offer and you can do anything you set your mind to.
Embrace the YOU you are.
"Let go of who you think you're supposed to be; embrace who you are." - Brené Brown