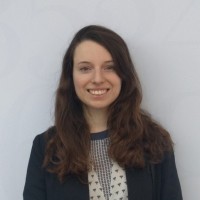 PhD Student, University of Strathclyde
Follow your passion, you are the only master of your path.
I am researching how Artificial Intelligence, specifically Natural Language Processing and Machine Learning, can help engineers retrieve crucial information from accumulated data related to space mission design. The field of Natural Language Processing allows computers to understand human language. I want to develop a virtual assistant for space systems engineers, that will go and fetch design information for them.
WHY DID YOU CHOOSE THIS FIELD?
I have been attracted to the Space field since my childhood, staring at summer starry nights in South of France. As a teenager, after visiting the NASA Kennedy Space Center with my family, I became even more intrigued by Space exploration and the engineering of rockets and satellites. My parents always supported me in my path, I went on to study general engineering, and pursue a master in Aerospace Engineering. My passion has continuously been fuelled by my curiosity, my desire to learn, and explore. The latter motivations pushed me to start a PhD in Artificial Intelligence in support of space mission design, leading pioneer research in the application of AI in the space field.
WHAT DO YOU LOOK AT & THINK, "I WISH YOUNGER ME WOULD HAVE KNOWN THIS WAS POSSIBLE?"
I wish younger me would have known that you should not let unsupportive high school teachers hold you back from your dreams. I went to a very demanding, high-level, high school, my math teacher told my parents that I was not fit for higher education. A few years later, I have a master in Aerospace Engineering and I am completing my PhD in Artificial Intelligence for space systems. Your future is not defined by your high school grades and early-life decisions, if you have a passion and are willing to work hard for it, you'll make it.
WHY DO YOU LOVE WORKING IN STEM?
I love sharing my passion for space with the general public, and especially kids. Space is the next frontier, there is so much we have yet to learn, and this is a topic anyone can be inspired and excited by. There is still an immense gender-gap in the Space field... I hope to see this change during my career! Meanwhile, I am contributing to close this gap by being involved in STEM.
BEST ADVICE FOR NEXT GENERATION?
I would say that your professional decisions should not be defined by your gender, it is about what you want to achieve with the limited time you have on Earth. Follow your passion, you are the only master of your path, you are the only one to know what you are capable of, don't ever let anyone tell you otherwise.
"Don't let anyone rob you of your imagination, your creativity, or your curiosity. It's your place in the world; it's your life. Go on and do all you can with it, and make it the life you want to live." - Mae C. Jemison, first Afro-American Women in Space