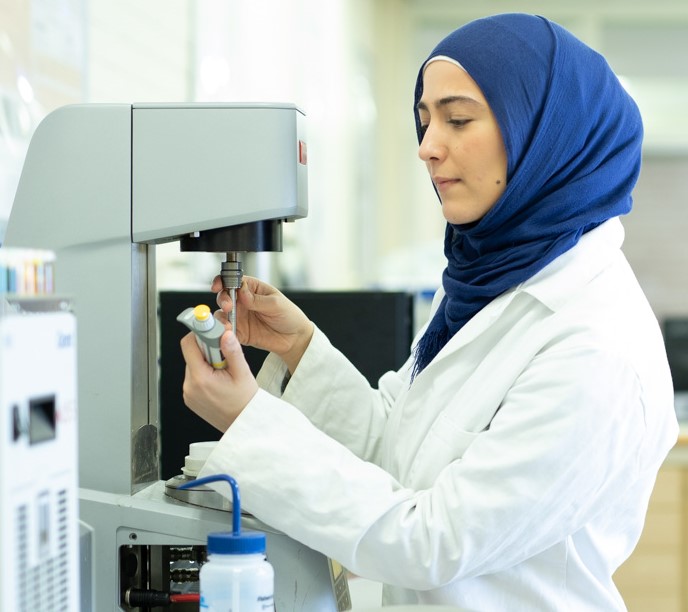 I study the structure-property relationship of polymeric soft matter in different environments, this covers a broad range of materials we use every day from plastics, food and pharmaceuticals. This requires preforming experiments to investigate the physical and chemical properties under different conditions.
Why did you choose this field?
In full honesty, it just happened! Early on I realised I was passionate about science but I didn't have a great sense of direction and didn't know where to start.
After two degrees in Pharmacy I had the opportunity to pursuit a PhD, which happened to be in an Engineering department. This shift opened my eyes to 'a whole new world' and broadened my prospective. Although my study was mainly focused on Pharmaceutical Engineering, the skills I acquired are transferable to many fields. Currently I'm employed on a waste recycling project and I still largely use the same principles I learnt in my previous studies.
What do you look at and think, "I wish younger me would have known this was possible"?
Recently I received an email from scientist saying they enjoyed reading a publication of mine! I've never imagined something like this would happen nor that I would have spent all this time in higher education and obtain a masters and a PhD studying something in passionate about.
Why do you love working in STEM?
Each day in STEM research is challenging and rarely boring, it comes with myriad of problems to be solved. There are a lot of gaps in our scientific knowledge and tonnes of questions waiting to be answered. Knowing that my research can provide some answers, therefore have an impact on people lives and will help understanding our universe better is very satisfactory.
Best advice for next generation?
We wouldn't have made it to the moon or discovered the structure of the DNA without female engineers and scientists!
Although females make up half the population, they only occupy 23% of STEM core occupations, imagine where we'd go and what will be discovered if more join in.
Inspo quote / fun fact / role model
I like quotes about change. One of them is 'Unless someone like you cares a whole awful lot,Nothing is going to get better. It's not'
Dr Seuss