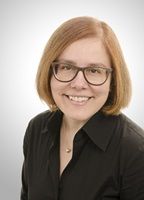 Head of Research Group, University of Tübingen
Never give up. Enter science for the beauty of it. Be focused. Enjoy what you do.
I am a physicist, I use radiation to investigate new organic materials for quantum technologies. I also teach and supervise undergraduate and graduate students.
WHY DID YOU CHOOSE THIS FIELD?
I was a very curious child. I always asked questions. I wanted to know why things work. I studied physics and I graduated in Applied Physics. I understood that science was the thing I wanted to do. It was hard, very often I was the only woman. I am still very curious about things, especially, about new materials. I have developed a new field, using classical techniques on new materials.
WHAT DO YOU LOOK AT & THINK, "I WISH YOUNGER ME WOULD HAVE KNOWN THIS WAS POSSIBLE?"
I am very shy, thus, first of all, I would tell younger me to work on that "immediately!".In science, when I was a Ph.D. student, I was always amazed by the complexity of the experiments other scientists could do. Now I perform complex experiments and I look at materials differently than other scientists do. I would tell my younger me that this is possible. I should not worry about it!
WHY DO YOU LOVE WORKING IN STEM?
I love having new ideas and visions. Fight for them. Test them and try to do a small step further in understanding.
BEST ADVICE FOR NEXT GENERATION?
Never give up. Enter science for the beauty of it. Be focused. Enjoy what you do. Sometimes it is very hard, it would be a lie to say that everything is wonderful, it might be frustrating. Understand your weaknesses and strengths. Believe in yourself, and go ahead.
"You should enter science for the love of it. The awards are nice, but enter because you are fascinated by science"

James Peebles, Physics Nobel Prize 2019