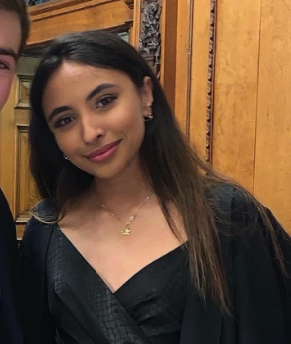 Medicine student, Cambridge university
Follow what you enjoy and you'll be able to achieve anything!
I study medicine at the University of Cambridge and am in my second year. I am currently working on a systematic review with imperial college and on an NIHR funded paper. This is alongside my full time studies and running medicineaccessproject.co.uk - aimed at improving access to medicine careers for students from a disadvantaged background
WHY DID YOU CHOOSE THIS FIELD?
As a child I felt like I wanted to be in a position of respect and I wanted to help people. Once I started my a levels I knew enjoyed sciences the most and that medicine was for me. Around the same time, a relative of mine was in hospital and the doctors were very uncertain about his prognosis. At this point I realised that there is so much left to explore in medicine and I want to contribute to this exploration. Access is an issue close to my heart, having seen many people throw away their potential due to inadequate information about higher education. Thus I created medicineaccessproject when I realised that despite so many access schemes, nothing had changed in medicine.
WHAT DO YOU LOOK AT & THINK, "I WISH YOUNGER ME WOULD HAVE KNOWN THIS WAS POSSIBLE?"
Writing academic papers. Academia seemed a world away to me as a child, where all the emphasis was on working purely to make a living rather than for interest and furthering our knowledge. To be able to tell myself that even at a young age I'll be able to do this and much more.
WHY DO YOU LOVE WORKING IN STEM?
I love working in STEM because there is so much that we do not know. The possibility to make a change to someone's life through my own knowledge and endeavours excites me and makes me study harder.
BEST ADVICE FOR NEXT GENERATION?
Don't listen when they say certain subjects are 'for boys' or girls aren't suited to stem. Follow what you enjoy and you'll be able to achieve anything!
Never give up on something you really want. It is difficult to wait, but more difficult to regret.