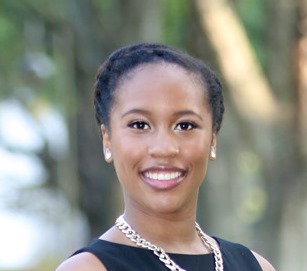 Research analyst, Institutional Research Department
And - Doctoral program, Information Science, Cornell University (fall 2020)
You were built for this, and it comes naturally to you. Go for it!
I always describe my job as being a data nerd! Many organizations like to make "data-driven" decisions, meaning they want to have evidence supporting their decisions in the form of data. This is no different in higher education. So when describing what I currently do, I usually say that I am doing the best I can to help administrators make the most informed and educated choices for the betterment of students' experience at our college. I can do that by providing reports, executive summaries, crafting surveys, giving presentations, and providing data-related training.
WHY DID YOU CHOOSE THIS FIELD?
My background is in psychology, both my Bachelors and Masters. My career trajectory has kept me in higher education in some form or fashion, given that I would ideally like to be a professor one day. However, my Masters program was much more statistically based than I had previously experienced. In that time, I got incredibly comfortable and confident in my analysis skills! I was so surprised, because I never thought of myself as being an analyst or statistician in any way. 

My current department is actually housed in the Information Technology branch of the college, so I got the chance to experience the inter-workings of this field: cybersecurity, programming, data analysis, etc. Yet, I also saw how technology manifested in the lives of students, faculty, and staff. What problems people faced trying to engage with new programs or information versus what came easily. That influenced my decision to pivot from psychology to a field that lies at the intersection of people and technology - Information Science.
WHAT DO YOU LOOK AT & THINK, "I WISH YOUNGER ME WOULD HAVE KNOWN THIS WAS POSSIBLE?"
Gaining admission to multiple PhD programs! I've known that I would be "Dr. Green" one day. Once I set my mind to something I don't stop working until I achieve it, but this admission season was a whirlwind.

The first time I tried the PhD admission cycle was right before leaving undergrad around 2013-2014. At that time, I thought I would (or should) be doing Clinical Psychology. It just made the most sense to me then, and I got an interview at one great school with an amazing professor! I was nervous and unsure; not at all confident in my abilities. I think that was evident in my interviews, and while I'm thankful that the professor could see I wasn't ready, not getting admission also bruised my confidence in the process.

Years later, I have more research experience, have a Masters, and worked a few years. This time when I was ready to start applying to PhD programs, I WAS READY! Which, again, translated well when I interviewed or discussed my passions. I always thought I was "just lucky" to interview for that one school many years ago, but this time I knew I worked hard for all these offers. Now I had the "luxury" to be able to choose the best program for me, and I got to meet so many amazing people along the way. People that I hope to work with for many years to come.

I wish I could tell younger me that it will all work out, when and how it should, just trust the process.
WHY DO YOU LOVE WORKING IN STEM?
I love the ability to be both analytical and creative. When I face a problem, I can brainstorm with colleagues and find an end goal together. But how each of us achieve that goal could be completely different! How I write code or syntax reflects how I think, and I can learn new tips or tricks when I look at how other people came to the same conclusion (or something totally different!). I wake up looking forward to finally getting my EUREKA moment - the time where the code works flawlessly and I can do my happy dance or reading articles and finally connecting ideas/theories that were once disjointed.
BEST ADVICE FOR NEXT GENERATION?
You were built for this, and it comes naturally to you. Go for it!

I didn't know I could be in STEM until I tried, and there was certainly no one telling me I was capable. I genuinely wish that every girl had someone rooting them on and telling them "You can do it!". The more you hear it, the more you are prone to believe it. YOU are the scientist, the technological anthropologist, the astronaut, the chemical engineer, the mathematician, the senior data architect, the CEO. That's all you, and more.
"If it makes you nervous, you're doing it right."