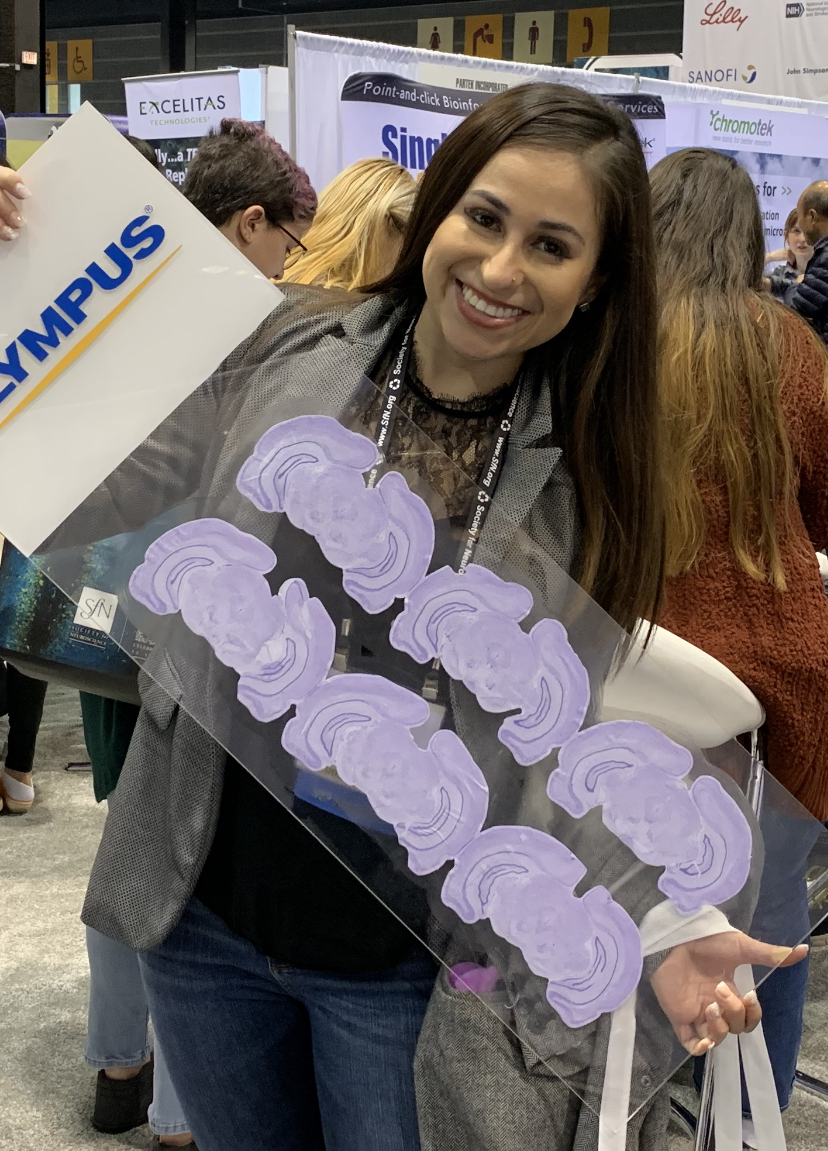 Graduate research assistant at the University of Texas
Rise above negative connotations and own the things that make you a great leader.
I work in a research laboratory studying neuro-systems. More specifically, I study the brain, which, in my opinion, is one of the most complex organs. I'm interested in investigating the arrangements and connections that control our appetite. One major health concern today is feeding and eating disorders (e.g., binge eating, anorexia, bulimia). The cause of dysregulation in feeding control has yet to be determined. In order to develop treatments, it's vital that we fully understand how the brain monitors our appetite and how its connections mediate this behavior. Similar to a computer, our brain contains circuits that send signals throughout our body to govern our behavior. If one of these connections were affected, then our brain (like a computer) wouldn't be able to process its function correctly. Just like computers monitor for any errors, our brain also monitors our metabolic status. How the misconnection occurs remains an open-ended question.
WHY DID YOU CHOOSE THIS FIELD?
The decision to pursue a career in research wasn't easy, nor did it appear to me as a movie like an epiphany. It took time and experience. Life is a marathon, not a race, just like research we create questions and we search out the answers. I searched for a lab to volunteer in. Thankfully, I met a great mentor who was passionate and patient. They gave me the confidence to pursue a career as an academic scientist. I don't hold all my success on just one person, I met several other mentors who continued to encourage and me towards my aspirations. These mentors can be anyone. They don't have to be in science nor do they have to be senior individuals. I have many mentors who are my close friends, colleagues, family members, and of course other scientists. Through this network, I have the best support system.
WHAT DO YOU LOOK AT & THINK, "I WISH YOUNGER ME WOULD HAVE KNOWN THIS WAS POSSIBLE?"
My entire life journey seems surreal. I don't think my younger self would have known I had the strength or motivation to become a scientist. I always pictured myself making a comfortable living with a 9-5 job. Now my life seems to be driven by curiosity and passion. It took many unexpected turns for the best.
WHY DO YOU LOVE WORKING IN STEM?
I love independence and troubleshooting. My job is to ask questions, learn, and discover. It's almost unfair how I found a career that allowed me to go after the resources I need to answer questions that no one knows the answer to. For a brief moment in time (before publishing a scientific article), I carry knowledge no one in this world knows about and that, to me, is an incredible thought.
BEST ADVICE FOR NEXT GENERATION?
There is one piece of advice I feel we don't talk about often enough. That is, rising above negative connotations and owning the things that make you a great leader. I have been advised on several occasions to act more like a "man" in order to be successful in this field. I completely reject this idea. The terms "sensitive," "aggressive," "emotional," or "motherly" are all qualities that make up a great leader. To create a team, working relationships, and a safe environment, you need to be empathetic; it's ok to feel and express it. My advice is to own these characteristics, never apologize for feeling, caring, or demanding respect.
"Be yourself; everyone else is taken" -Oscar Wilde. A bit silly but this quote resonates with me. Down the road, you will constantly be compared to others. This might make you feel like you need to become someone else. Ignore those comments.