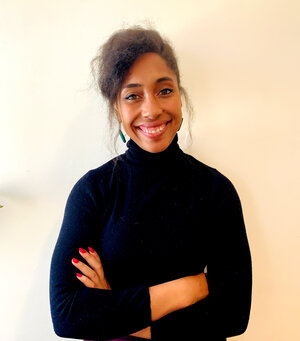 Neuroscientist and postdoctoral fellow at Stanford University
The current generation of women in STEM is working hard at making sure you feel seen, heard, and encouraged.
My goals are discovering and better understanding circuits in the brain that support cognition, and identifying pathways for intervention in psychiatric diseases and neurological disorders with cognitive impairments. Currently, I'm exploring the causes of attention impairments in a genetic mouse model of absence epilepsy.
WHY DID YOU CHOOSE THIS FIELD?
I first fell in love with neuroscience the summer before my senior year of college, when I had the opportunity to volunteer in a lab studying learning and memory. That fall, I applied to grad school, and I've never looked back! Seven years later, I still am amazed that I have the privilege to pursue questions that fascinate me every day.
WHAT DO YOU LOOK AT & THINK, "I WISH YOUNGER ME WOULD HAVE KNOWN THIS WAS POSSIBLE?"
Currently, I'm helping organize the first Black In Neuro Week, a social media initiative designed to amplify Black voices in neuro-related fields and help us find community. As someone who has never had the opportunity to have mentors that look like me, the feeling of helping provide increased visibility to so many Black In Neuro pioneers, so that aspiring neuroscientists, neuro-engineers, and neurologists, know they're not alone is unmatched.
WHY DO YOU LOVE WORKING IN STEM?
My favorite thing in science, is that quite often, the only limit to what you can do is your imagination. I get to come into lab everyday and try to answer questions that truly fascinate me, and I have the intellectual freedom to take those explorations as far as they can go.
BEST ADVICE FOR NEXT GENERATION?
The current generation of Women in STEM is working hard at making sure you feel seen, heard, and encouraged. Know that a wealth of future mentors are here for you, so don't ever feel like you have to do it alone.
As we learn to bear the intimacy of scrutiny, and to flourish within it, as we learn to use the products of that scrutiny for power within our living, those fears which rule our lives and form our silences begin to lose their control over us.