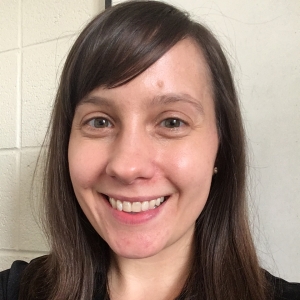 Assistant Professor of Meteorology, University of North Carolina
I want every girl to know that you can do it! You can be a scientist.
I teach college students about the weather! The students I teach in particular are meteorologists-in-training. I help them learn valuable skills for their career, like computer programming, and understanding how math and equations tell us all about how the atmosphere works. I also do research to help better understand how severe thunderstorms work so that meteorologists can make better forecasts.
WHY DID YOU CHOOSE THIS FIELD?
As far back as I can remember, I have always been fascinated by the weather. I loved to sit outside and watch the clouds. I made my mom (who was a librarian) check out every single book the library had on weather. I watched hours and hours of the Weather Channel. When storms moved through the area, I kept one eye on the Weather Channel and one eye on the sky. Suffice to say, meteorology was always a passion of mine!
WHAT DO YOU LOOK AT & THINK, "I WISH YOUNGER ME WOULD HAVE KNOWN THIS WAS POSSIBLE?"
I graduated with my PhD in atmospheric science in 2013. Something like that was NEVER on my radar, not even when I started my Master's. I had always thought people with PhDs were freakishly smart and everything came easy to them. I was always good at school, but a PhD seemed incredibly out of reach because I thought I needed to have some base level of smartness that I felt I didn't have
WHY DO YOU LOVE WORKING IN STEM?
I love discovering new things and finding new ways of understanding our amazing atmosphere! Probably the best part of my job, though, is working with students and helping them along their path to becoming meteorologists!
BEST ADVICE FOR NEXT GENERATION?
I want every girl to know that you CAN do it! You can be a scientist. Find a mentor who can encourage you when things get tough and can cheer you on!
"The thing I remember best about successful people I've met all through the years is their obvious delight in what they're doing and it seems to have very little to do with worldly success. They just love what they're doing, and they love it in front of others." —Mr. Rogers