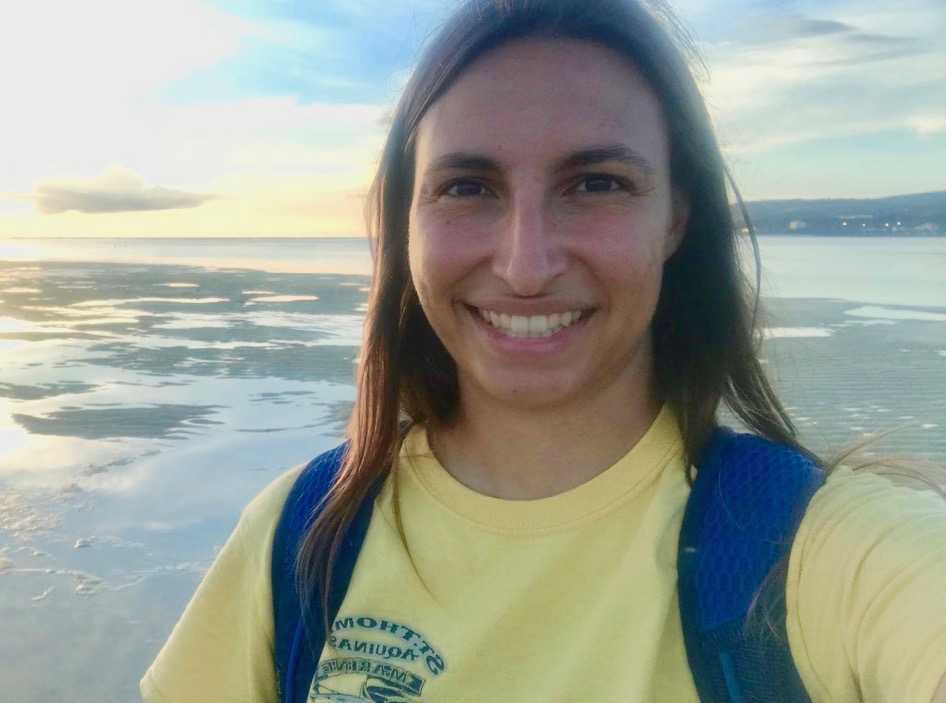 Research Assistant and Graduate Student, University of Guam Marine Lab
Being a woman in STEM is rewarding and there is a great community waiting to embrace you and your ideas.
I study coral reefs throughout Micronesia. I work with teams of scientists on Guam and on other islands around the region to manage a database of information about the reefs. Through SCUBA diving, I collect data about corals around different islands. When I'm not diving, I am typically analyzing data about fish, benthic substrates (is the ocean floor covered in Algae, Coral, Sand?), invertebrates, and coral that has been collected over the years. I use some of this information for my own thesis research through which I'm investigating the ability of reefs to survive and recover from coral bleaching events. As a research assistant, I also help with whatever random jobs come up. Sometimes this is testing the water quality of Guam's streams, sometimes its acting as a Teaching Assistant, and sometimes its working at outreach events to interact with the community.
WHY DID YOU CHOOSE THIS FIELD?
Honestly, I believe that I didn't choose this field, it chose me. Growing up, I don't remember ever thinking I'd become a marine biologist. In fact, I thought I would become a teacher or historian. When the economy crashed while I was deciding on college majors, I reconsidered the idea of a history major and began thinking of my other interests. This is when I realized that marine biology was always a part of me. As a child, my family always took a yearly vacation to the "shore", as we called it, where my brother I and embraced the ocean wholeheartedly. We especially loved "The Point" which was a unique beach that had many tide pools to explore at low tide. My parents would basically have to drag us in to eat and sleep. Outside of trips to the beach, we also loved finding aquariums and zoos around the country. One of my favorite cassette tapes to fall asleep to was called "I'd Like to be a Marine Biologist". Baby Beluga was a favorite book and song, and I adopted a manatee in 6th grade. I always loved nature, animals, and the random at-home science experiments my mom came up with. I excelled at biology in high school and I loved participating in Science Honor Society. So, I decided to major in biology at a school on the coast and ended up getting minors in both Marine Science and Environmental Science (Fun Fact: I kept my love of history going by also minoring in Classical Studies). Junior year in college is when my career really began and my passion flourished. I studied abroad in Turks and Caicos with the School for Field Studies where my life changed entirely. There, I was fully immersed in classes, field research, and presentations in many aspects of marine biology. I learned how much fun the field can be, how hard it can be, and how rewarding and important this work is. I began to understand what it was to be a marine biologist. I WAS HOOKED! When I returned my senior year, I spent the year researching with my advisor and interned in an aquarium. There was no looking back. So for me, there was never one moment. (However, there have been many special moments that have affirmed my career choice). It was childhood excitement, that lead to potential, that encouraged me to find my passion, which revealed my career path. I know this is what I was meant to do.
WHAT DO YOU LOOK AT & THINK, "I WISH YOUNGER ME WOULD HAVE KNOWN THIS WAS POSSIBLE?"
It's hard for me to pick an achievement because I didn't know that this life I'm living was at all possible. I guess my achievement would be just standing where I am. I am a fully funded graduate student at a marine lab on the gorgeous island of Guam. I am paid to go dive remote reefs around the region and I get to interact with highly respected scientists at conferences, meetings, and just around the office. I have friends that I have met in this field that are as close to me as family and have experienced such incredible moments in the ocean that I sometimes still have to remind myself it's real, and I know that my future with this career will bring many more magical experiences. The younger me who grew up in Pennsylvania, never had many friends, worked really hard, and was terrified of new people in places, would have never imagined that I could be here: a marine biologist who travels the world and shares her experiences with many friends. I'd want younger me to know that chasing dreams is not foolish, hard work can pay off, and being yourself will lead you to greater fulfillment, because that's exactly where current and future me is.
WHY DO YOU LOVE WORKING IN STEM?
I love working in STEM because the wonder and exploration never ends. My job is to find problems and develop solutions, and the results can have a big impact. And it's not just a job, its a lifestyle. When I wake up, I look forward to the impact I can make each day.
BEST ADVICE FOR NEXT GENERATION?
GO FOR IT! STEM often requires a lot of hard work and many people will not support you, especially as a female. However, if your passion lies in STEM, your hard work will pay off, and you get the opportunity to prove the naysayers wrong. Being a woman in STEM is rewarding and there is a great community waiting to embrace you and your ideas.
"Those who contemplate the beauty of the earth find reserves of strength that will endure as long as life lasts." - Rachel Carson