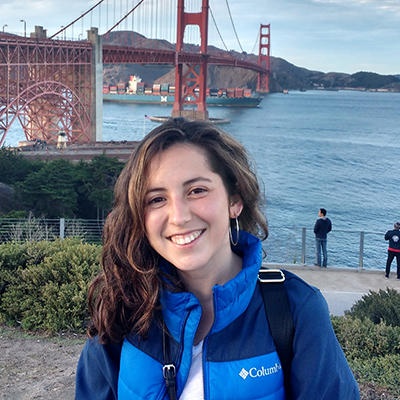 Daniela Catalina Soto Negrete
Ph.D. candidate in genomics at the University of California
I am a computational biologist that analyzes genetic data from great-apes to decipher the underlying genetic basis of our unique human cognition and neurodevelopmental diseases.
WHY DID YOU CHOOSE THIS FIELD?
I come from a family of engineers: both of my parents studied chemical engineering. Naturally, I became an engineer. I'm proud of this background and I wouldn't change it. However, when I was finishing my master's degree in biochemical engineering, I discovered an unforeseen passion for programming. At that point, I discovered a field called bioinformatics. In Chile –my home country– this field was not really widely known back then. Bioinformatics was just the perfect mixture of computer science, statistics, and biology that I was looking for. With no previous knowledge, I approached a former instructor that happened to be looking for a "bioinformatics support" in his lab. He ultimately hired me and provided the trained I needed to become a bioinformatician. I'm sure that knocking his door was the best thing I have done for my career in computational biology. I consider him my professional "godfather".
WHAT DO YOU LOOK AT & THINK, "I WISH YOUNGER ME WOULD HAVE KNOWN THIS WAS POSSIBLE?"
For some reason, I never thought of myself as a computer person. Even when I excelled at my first programming course at 18, it didn't occur to me that I could follow that path – I felt it was not allowed to me. I wish I would have known it was for me. I wish I would have taken electives and seek for opportunities to explore this interest of mine. Nowadays, I analyze huge amounts of genomics data in computer clusters, and I code on a daily basis. With effort, I've been able to acquire the skills that I didn't acquire before.
WHY DO YOU LOVE WORKING IN STEM?
I love how so many aspects of my work. I love that I wake up and it's me and my computer (well, the computer cluster). I know that between these huge amounts of data, there is information about our biology, our mind, and –ultimately– who we are. I know everything I do will have an impact; maybe not today, not tomorrow, but sometime, somewhere. I love the challenge as well. There are so many unknowns and most of the time no one can tell me what to do or how to do it, it's up to me to figure it out. It is a deeply creative field in that regard. Sometimes I wake up overwhelmed, but overall I'm happy, because what could be more important than my work impacting our understanding of who we are?
BEST ADVICE FOR NEXT GENERATION?
When you grow up there are a lot of people telling you what you can and cannot do. I will advise you to not listen to them that much, but rather to look for role models whose lives inspire you. Role models will never tell you what you should do, but they will show you where you can go if you want to. At the very end, that's the most important. Be who you want to be.
"Every man takes the limits of his own field of vision for the limits of the world." - Arthur Schopenhauer