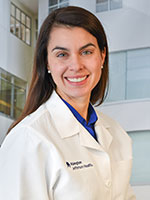 Designated Institutional Official of Graduate Medical Education & Vascular & Endovascular Surgeon at Abington-Jefferson Health
Having strong fundamental STEM skills can lead to so many different careers.
I am a vascular and endovascular surgeon treating a wide breadth of vascular disease including aneuryms, carotid disease and peripheral vascular disease. I am also the director of graduate medical education leading the multiple residencies that we have.
WHY DID YOU CHOOSE THIS FIELD?
I attended Villanova University. I loved science and math and ultimately decided to go to medical school. I attended Jefferson Medical College where I quickly learned that the operating room was my calling. I found surgery so rewarding. My grandfather was an engineer and otherwise I come from a family of bankers. It was special to be the first of my family to go medical school.
WHAT DO YOU LOOK AT & THINK, "I WISH YOUNGER ME WOULD HAVE KNOWN THIS WAS POSSIBLE?"
I recently got a promotion to the head of the graduate medical education office at a time where my surgical practice is also thriving. What makes this so special is I have two young children and it feels so special for my 7 year old daughter to get to see her mother achieving goals.
WHY DO YOU LOVE WORKING IN STEM?
I love using science and technology to treat complex vascular problems. The specialty is always evolving with an increase in minimally invasive techniques. It is so rewarding to be able to treat a patient successfully with a fast recovery time.
BEST ADVICE FOR NEXT GENERATION?
Having strong fundamental STEM skills can lead to so many different careers. The most important thing is to develop a love of learning which so much of STEM focuses on. The ability to get excited about making new discoveries in life and solving puzzles. If you start with this passion, there are so many ways to apply it to real life.
"Don't let anyone rob you of your imagination, your creativity, or your curiosity. It's your place in the world; it's your life." Mae Jemison