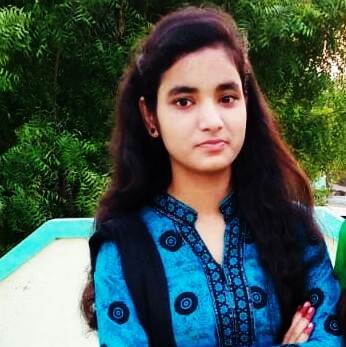 STEM gives you opportunity to invent and discover new things and thus, create your own world!!
I want to be an astronaut in future. For me the second meaning of an astronaut is the one who faces challenges , convert them into opportunities and make the impossible to be possible. Same meaning I would like to make others to understand too. Since currently I am a curious school student , I would suggest others to be passionate about their dreams and believe in themselves even when no one considers you to be capable of doing your job nicely.
WHY DID YOU CHOOSE THIS FIELD?
I have been passionately curious since I joined school. I always wanted to do something in my life which others don't even think of doing. Looking into sky have always given me internal peace. I remember one night when I was in 6th standard, I started looking at the moon which looked so beautiful that it made me to be so lost in itself that I could not even take my eyes off it for few hours. Since then whenever I feel lonely and hopeless, I look into the sky for a moment and I feel everytime that it tells me that I am not alone, the Universe is with me and I can reach to it!
I study in Jyoti Niketan School in Uttar pPradesh, India. I have many hobbies like dancing, singing, writing, sports and the most favourite of mine that is to know more about the cosmos. I am supported by my family , friends and specially my father who is another reason that I want to such a great job in my life. I am inspired by Albert Einstein and Kalpana Chawla who made me realise that anything is possible to do!! As I belong to a typical middle class family, it becomes hard to dream of such big things but my father always motivates me to go farther to achieve that goal!!
WHAT DO YOU LOOK AT & THINK, "I WISH YOUNGER ME WOULD HAVE KNOWN THIS WAS POSSIBLE?"
When I see people like Alyssa Carson who is the youngest astronaut, I feel like if I would have got facilities and lived in a country like hers , I would have definitely done something great till now which could have inspired others!! But since I am late, I work hard everyday to make that possible.
WHY DO YOU LOVE WORKING IN STEM?
I love working in STEM because I like thinking logically, being intelligent, doing research and knowing more and more about planets, cosmos , our existence in this Universe and explore it to witness it with my own eyes!!! Everyday I wake up thinking what next step (no matter how little it is) I can take to go closer to my dream!!
BEST ADVICE FOR NEXT GENERATION?
For next generation of girls, I would like to say that "Your gender never matters. Nature has a meaning to everything it does . So you too have a meaning behind your existence and your being a female. STEM is the best field one can choose to take humanity to the next level together!! STEM gives you opportunity to invent and discover new things and thus, create your own world!!! So, go ahead and work for it!"
"When there is will, there is way!"