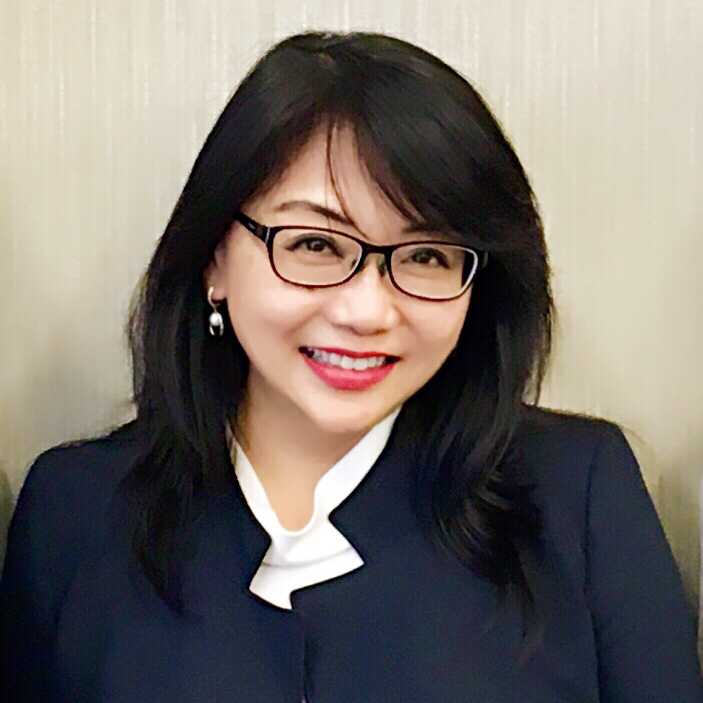 Executive Director, Business Unit Leader at Emerson, Automation Solutions
Be fiercely self-reliant-emotionally and financially.
Executive Leader in traditionally male-dominated Global Engineering/Manufacturing/Energy Industry
WHY DID YOU CHOOSE THIS FIELD?
My mom grew up in a small Indonesian island village where the high school didn't exist and most girls stopped schooling at 15 years old. She fought with all her might to be allowed to go to high school in the city, jumped on a ship to move to China by herself after high school, and became the one and only college graduate in her family of six kids. She raised my sister and me in a tiny, three-bedroom apartment that we shared with two other families. She endured a year-long labor camp but never gave up learning while being isolated in that remote harsh region. When I was twelve, mom used all her savings and took my sister and I traveling for three days on a slow train to visit Hong Kong. That was my first time seeing a place outside mainland China. Mom showed us a different kind of life and the freedom one could have if they studied and worked hard. Despite all of the odds against her, my mom retired as a Senior Chemical Engineer from a top research institute in Beijing. Consequently, both my sister and I went to university in Canada on scholarships and we each ended up with three degrees.
WHAT DO YOU LOOK AT & THINK, "I WISH YOUNGER ME WOULD HAVE KNOWN THIS WAS POSSIBLE?"
2019 marked the 20th year of me working in manufacturing engineering

I joined Emerson as a Sales and Application Engineer in a Canadian factory fresh out of college. After getting experience in project bidding, application engineering, project management, and operations, I moved to Singapore in 2005. For three years, I helped to hire and train people, set up operation processes, and supporting business development throughout the Asia Pacific region. Today, we have thriving operations in China, Malaysia, Singapore, and India supporting global customers. A lot of Emerson business unit leaders in Asia operations were hired and trained by me.

In addition to meeting so many amazing people from all corners of the world, I was able to actually see the world while working. I sat in front of the Taj Mahal after training our Chennai engineering team, rode a bicycle in Amsterdam after meeting with technical leaders at Shell, watched gorgeous sunsets over the ocean in Perth, Australia, after visiting an Emerson Impact Partner, dipped my toes in the Arabian Sea close to the Emerson Dubai office, and stayed overnight in a 17th-century castle close by our Italian factory.

In 2008, I moved to Houston, Texas. Since then I have worked in operations, global technical training, product management. Today, I'm the Managing Director of Business Unit overseeing a multi-hundred-million-dollar manufacturing portfolio in the US, China, and Italy.
WHY DO YOU LOVE WORKING IN STEM?
STEM drives the world forward. I love the power, the challenge, the huge effect on society. I look forward to making a difference in people's lives.
BEST ADVICE FOR NEXT GENERATION?
Here are three life principles my mom taught me and I have passed on to my daughter:

1) Be FIERCELY self-reliant-emotionally and financially. If you need to rely on another person to live the life you want and make you happy, you are not doing it right

2) Be kind to yourself, FIRST. If you are happy and strong, your kids, relationship and work will fall into place. Make yourself a priority, forgive yourself for mishaps, and do NOT sweat the small stuff. (Store-bought cookies for the school bake sale is OKAY! It's not the end of the world if your kid can't play the piano, etc. etc.)

3) Be kind to others, ALWAYS. Networking does not mean taking from others, it means building real connections by HELPING others. When you send out kindness without expecting it in return, you'll get kindness, support, and even fortune back. Karma is real.
"Stay Hungry, Stay Foolish" ~Steve Jobs

From Indonesia to China, from China to Canada, from Canada to Singapore, from Singapore to Texas, the lives of my mom, myself and my daughter have been drastically different. However, we all share the same spirit. I believe it can be summed up perfectly by Steve Jobs' famous quote, "Stay hungry, stay foolish".

Hungry for knowledge - so we push ourselves to pursue higher education. Hungry for freedom - so we jumped on ships and planes for other countries. Hungry for independence - so we build careers to support ourselves. Hungry for love - so we made sacrifices to raise families.

My mom was foolish enough to dream about college while no girls in the village finished high school. I was foolish enough to dream about a professional career in the West with minimum English skills. My daughter was foolish enough to sign up for hockey while there's no girls' team in the city.