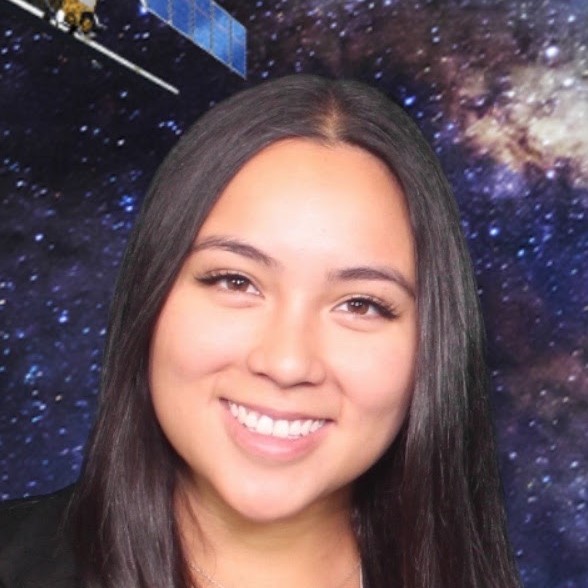 Elizabeth Delgadillo Talburt
Project Engineer, MEI Technologies
By pursuing STEM, the work you do can move technology to forward and improve the quality of life for future generations.
I am a subcontractor working as a Project Engineer on NASA's Human Health and Performance Contract (HHPC), which supports human spaceflight programs at Johnson Space Center. My work includes sustaining, fabricating, assembling, and testing hardware used on the International Space Station and Orion spacecraft. Project Engineers do a little bit of everything -- from trouble shooting issues with existing equipment to designing new tools from scratch.
WHY DID YOU CHOOSE THIS FIELD?
I have always been interested in engineering and how technology can improve people's lives. The spaceflight industry provides a unique arena for innovation. Technology developed for space can have massive impacts on everyday life. For example, improvements to satellites can impact our communication methods; new medicines and treatments developed for astronauts in space can also be used to help people on earth.

Although I have always been drawn to engineering, my start in the space industry was inspired by chance. When I was in class during my second year in college, I noticed an interesting sticker on someone else's laptop that was from NASA Ames Research Center. The cool sticker inspired me to look up summer internship opportunities at NASA. After applying to 10 different positions, I was accepted for a summer program. The amazing mentors I had inspired me to keep pursing a career in the space industry.
WHAT DO YOU LOOK AT & THINK, "I WISH YOUNGER ME WOULD HAVE KNOWN THIS WAS POSSIBLE?"
In 2018, I had my first research paper published in a peer reviewed journal. Back in high school, I remember being nervous about writing any sort of essay or paper. Advanced placement classes were intimidating and I was unsure if I could handle a busy workload. Although I loved the idea of engineering and research, I was unsure if it could be anything more than an interest or something I read about.
I wish that younger me was less afraid of failure. Self doubt made me question if I was qualified, or good enough, to be in a STEM career field. However, I had the support of my parents and sister who always pushed me to try just a little more. These incremental increases in confidence encouraged me to take more math classes in high school, and eventually choose engineering as my major in college.
WHY DO YOU LOVE WORKING IN STEM?
I love working in STEM because I am passionate about space exploration. There is a renewed interest in space, and I feel extremely lucky to be part of the next generation of scientists and engineers who safely send people beyond Earth. I am at the beginning of my career, so I am looking forward to the day that I can watch a launch, point to the beautiful rocket piercing the sky, and say that a project I worked on is hitching a ride to the stars.
BEST ADVICE FOR NEXT GENERATION?
By pursuing STEM, your career can be more than just a job. The work you do can move technology to forward and improve the quality of life for future generations.
"Engineering is the closest thing to magic that exists in reality. So, if you want to be a magician, then you should be an engineer." - Elon Musk