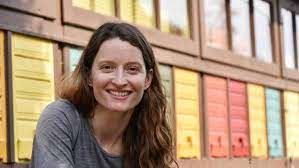 I teach future biology teachers and conduct research on science education
Why did you choose this field?
I studied zoology and wanted to help improve biology education at the school level to encourage more students to pursue careers in science.
What do you look at and think, "I wish younger me would have known this was possible"?
My younger self would probably be most happy to realize that you can actually be paid to observe wild baboons and publish books about ideas.
Why do you love working in STEM?
I love the creativity and flexibility that exists in STEM. I wake up looking forward to teaching my students and coming up with exercises that will get students excited about science.
Best advice for next generation?
Believe in yourself and make sure that you find advisors and mentors who will help you reach the goals that you set for yourself and your career. Don't let anyone make you feel like you have to choose between being a mom and a scientist.
Inspo quote / fun fact / role model
"Let us choose for ourselves our path in life, and let us try to strew that path with flowers." - Emilie du Chatelet