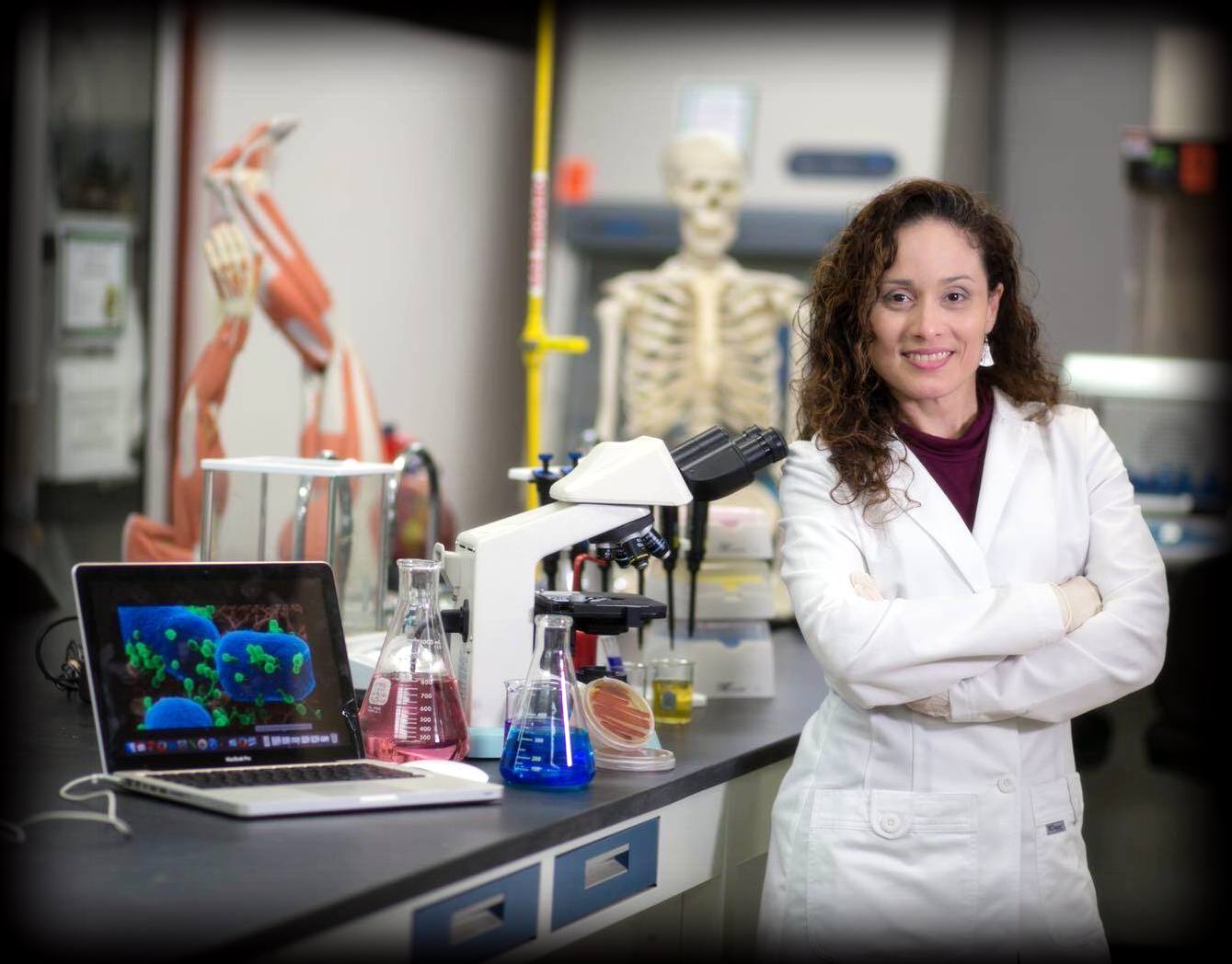 Elizabeth Padilla-Crespo, Ph.D.
Distinguished Research Professor, Inter American University of Puerto Rico
There are no limits, and the world needs you.
At my institution I wear many hats: (1) I lecture advanced Biological Science classes, (2) serve as the Coordinator for Student Mobility and Internships, (3) and I am Principal Investigator and Researcher.

As Coordinator for Student Mobility and Internships I try to connect students with opportunities based on their interests and strengths; I study them carefully on paper and personally. In the process I give them sincere career advice, and when I see true potential, I make sure they apply to competitive internships programs.

As a teacher, I integrate course-based undergraduate research (CUR) experience into my courses, since exposing students to early research experiences, is a widely recognized strategy for increasing recruitment and retention in STEM. They engage in inquiry based and hypothesis-driven projects on topics such as microbial degradation of hydrocarbons, mineral-bacteria interactions, detection of biomarker genes, etc. I'm committed to spread the word about the joys of being a scientist, to encourage younger generations to follow similar paths, and to emphasize the importance of research.


Lastly, as a Principal Investigator, I lead my research group the BioPro Solutions Laboratory group, which is more than a physical space; the BioPro Lab is a concept where undergraduates are exposed to environmental microbiology research experiences within existing courses and voluntary work, complemented with professional development activities and one-to-one mentoring. I establish strong mentor-mentee relationships to maximize students' potential and acceptance to summer internships, graduate school, and transition to the workforce. I am trying to build a pipeline pipeline where students with degrees in the biological and environmental sciences are exposed to hands on research experiences and training and that will lead them into careers or graduate studies.

My research interests are often interdisciplinary, dancing in the borders of environmental chemistry, molecular biology, and microbial ecology. Past and current projects include the design and application of cutting-edge microbiological and molecular tools, biodegradation of chlorinated solvents; pesticides, and hydrocarbons, general microbial ecology. Let's say that I like to know more about ways of using natural "gladiators" aka microbes that can help us, clean, restore, contaminated sites, and develop new products with biotechnological potential. My biggest contribution to my field was during my dissertation, when I assigned function to a gene, in a bacteria, responsible for the transformation of 1,2-dichloropropane (a contaminant present in pesticides) to propene (the non-toxic product).
WHY DID YOU CHOOSE THIS FIELD?
My interest in mentoring, outreach and broadening participation-activities comes from my personal experience. As an undergraduate, I participated of four summer internships at Georgia Tech, Univ. of Wisconsin-Madison, DOE Lawrence Berkeley Lab and Harvard Medical School. These opportunities shaped me, made me aware of the possibilities of pursuing a PhD and that could choose research as a career. Therefore, I know how these opportunities can impact a young students' path, and that's why I'm passionate about helping and guiding them so that they get access to similar opportunities, only that way we can break the cycle of poverty and underrepresentation of minority groups in the sciences.

As a graduate student (and NSF Graduate Research Fellow) I tried to always enhance my graduate school experience with professional development activities. In my second year of graduate school I was selected to participate in the International Ocean Drilling Program Science Steering and Evaluation Panel in Germany, where I had the opportunity to gain insights into the proposal review process and experience the effort that goes into the development of world-class science programs. I noticed that of about 60 international panel members, none were black, less than 10% were woman, and only two were Hispanics. For the first time, I experienced the statistics that I have seen on paper: underrepresented minorities in STEM fields. But it also made me feel very proud that I could make the voice of a female, minority student heard.

Later on, in 2015 as I was finishing my Ph.D. I came across the NSF report on "Women, Minorities, and People with Disabilities in Science and Engineering" (S&E, 2015) showing that: (i) Minority women comprised about 1 in 10 persons employed in S&E occupations, (ii) represented only 11.2% of bachelor's, 8.2% of master's and 4.1% of doctorate degrees granted in science and engineering, (iii) although females comprised half of the total U.S. college-educated workforce, they only represent 29% of the S&E workforce, (iv) More specifically, only 9.7% of bachelor's degrees in biological sciences were awarded to minority women. Those numbers hit me and became my main motivation to return to Puerto Rico after completing my Ph.D. to train the next generation of Puerto Rican scientists, and to inspire women pursue STEM degrees.

Therefore in 2015, I decided to come back to my native P.R. (against the current emigration wave) to contribute to the island's "knowledge-based economy". I want to help create a pipeline of students that will have the opportunity to perform on-campus research while receiving mentoring and professional development tools, thus becoming more competitive in applying to graduate school or entering the STEM workforce. I want to share my knowledge with my community in order to give smart solutions to enhance bioremediation and detoxification of contaminated sites and inspire students, especially woman and minorities into pursuing careers in science and engineering. Today I'm optimistic and confident of my work, knowing that I have a mission to complete that involves Research, Teaching, and Service.
WHAT DO YOU LOOK AT & THINK, "I WISH YOUNGER ME WOULD HAVE KNOWN THIS WAS POSSIBLE?"
I wished I would have known that there is no designated path, that as long as you follow your passion and heart everything will be ok. There is no exact plan or recipe for success... everyone's story is very unique, and our journeys not lineal. That was my case, in the middle of finishing my PhD I did science policy internship in DC and worked and Capitol Hill, I also participated in other extracurricular activities and interdisciplinary projects that delayed my graduation date… but now I can see how all those experiences have led me to where I am today. My background is now richer, on both basic and research topics, that help me shape questions of interdisciplinary nature for my students. Also, my experience in science policy gives me the knowledge and tools to shape them as science and environmental ambassadors with a strong sense of citizen science and social responsibility. Students are encouraged to take their scholarly acquired knowledge back to their home and communities. The circle continues on, now they are breaking socio-economic economic barriers, going out to internships, Ph.D. programs and being successful. Hopefully, 15- or 20-years from now they also give back to the younger generations, and that's the way the circle of poverty and science illiteracy is broken.
WHY DO YOU LOVE WORKING IN STEM?
There's something beautiful in asking intrinsic questions about the world that surrounds us and having the opportunity to work with my hands; that why I love Research. As a Professor, I enjoy the opportunity be in a position where I had direct contact with students, so that I make an impact on the future generations based on my knowledge and own experiences. I aim to present them with a world of possibilities, questions dying to be answered, biological processes screaming to be described. I enjoy every semester; students are required to develop and perform a research project on their own during the course of approx. 8 weeks (most of the them in the realm of microbiology). I guide, but I also give them freedom… I see how they feel empowered by the dynamism of the process, how they go around drafting a methodology, I see their faces of inquiry when they confront an unexpected result, the constant need to modify procedures, how they re-search, over and over, multiple times… because that's what it is all about, that's why it is called research. At the end of the semester they present their findings and I see how much they have grown. Research in STEM is a work of passion, love and dedication, and I'm honored I get to do that for a living.
BEST ADVICE FOR NEXT GENERATION?
There are no limits, and the world needs you. Therefore, if you feel an inclination on the any of the STEM fields, go for it and experience it. We are living in very interesting times, most of the problems or world and society encounters have a scientific or engineering core, and therefore a solution awaits. You can make history and make a discovery, thus contributing to humanity. Lastly, don't be shy and be proactive; opportunities are not always waiting for you, you are in the driver's seat, responsible for chasing down these opportunities. Reach out to for mentors and role models, don't hesitate to drop an email, professionals like me cherish those moments when a student's approach us. It doesn't matter how busy you think I might be, it always draws a smile on my face.
"Where the world ceases to be the scene of our personal hopes and wishes, where we face it as free beings admiring, asking, and observing, there we enter the realm of Art and Science" – Albert Einstein