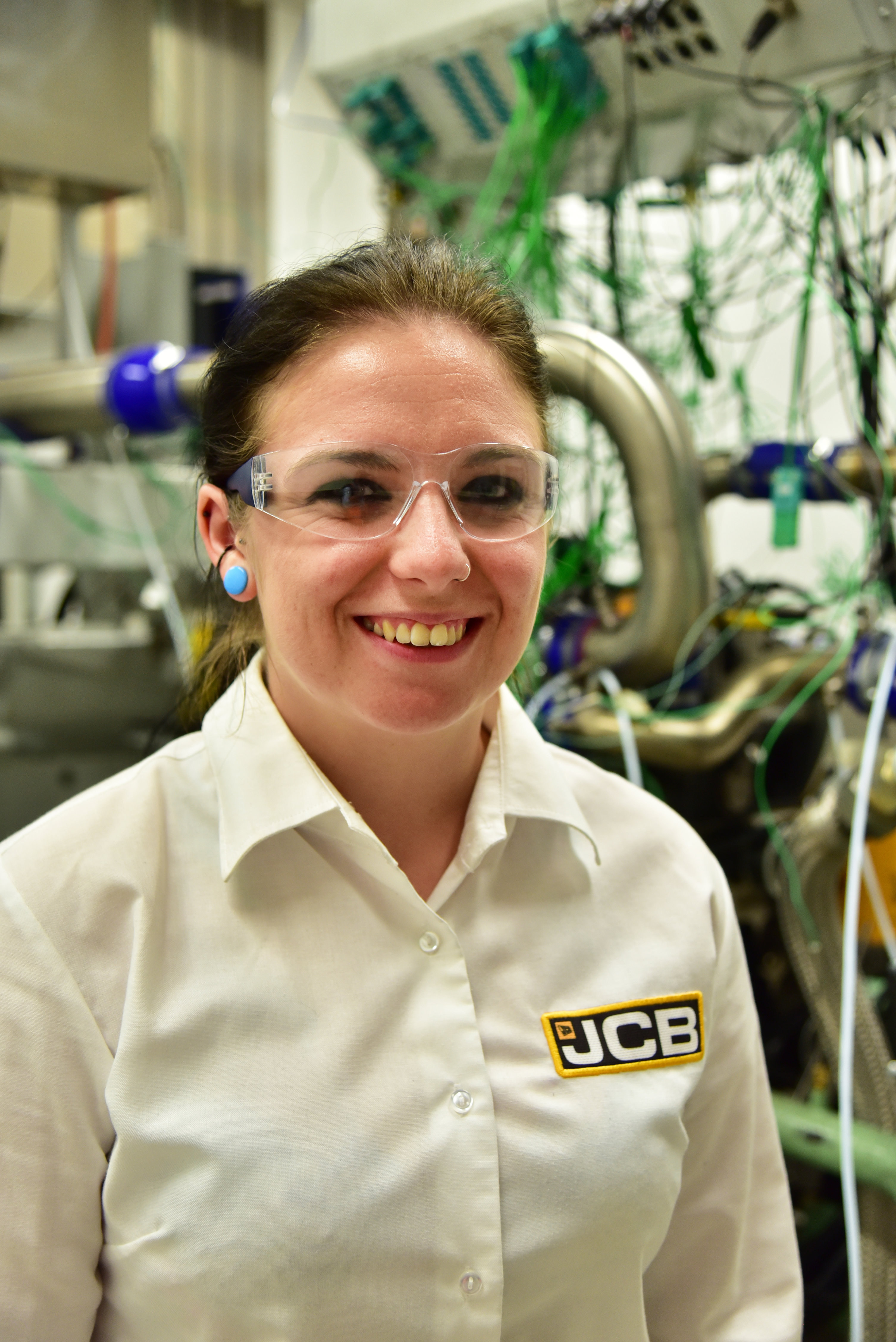 Engine Development Engineer, JCB Power Systems
It isn't a scary place to be so don't worry about what other people 'might think'.
My main role is planning, running and reporting on diesel engine testing, which we complete in test cells on dynamometers running the engine as it will be run when it is in a machine. I develop a test plan which meets all of the stakeholders' criteria and then ensure this plan is followed. This is done by ensuring all special equipment, parts or instrumentation is available and correctly installed, provide daily instructions to the test cell technicians to carry the required work out, analyse the data that is collected and produce a technical report detailing my findings and recommendations. These documents are used to feed into signing a new product off, closing out a problem or developing a new component.
WHY DID YOU CHOOSE THIS FIELD?
My interest in engineering has been with me throughout my life, spending hours as a kid helping (or more likely hindering!) my Dad with his woodwork creations in the garage and having a lifelong passion for Lego! I was very fortunate going to schools which encouraged hands-on learning, and my Design Technology department at primary school had everything from pillar drills to vacuum forming machines. I would spend my summer holidays making plastic boats to race across ponds, and building wooden fortresses and catapults for competitions. I'm so grateful for having such great opportunities growing up, and I am sure that my love for engineering has been very naturally developed by having these experiences from a young age.
WHAT DO YOU LOOK AT & THINK, "I WISH YOUNGER ME WOULD HAVE KNOWN THIS WAS POSSIBLE?"
Working in the British Superbike Championship at the circuits I spent hours at as a child, as the only female mechanic in the paddock.
WHY DO YOU LOVE WORKING IN STEM?
I love being in a career where I get to use my brain everyday...nothing about my job is done on autopilot so I am constantly challenged and mentally stimulated. I get to work on a wide range of projects which means most days are different, and I am responsible for my own work load so I can run my day the way I want to.
BEST ADVICE FOR NEXT GENERATION?
STEM subjects open up so many doors in such a huge range of fields, you can get involved in so many exciting and rewarding careers. Don't be afraid of going into a 'male dominated' industry...everyone I have ever worked with has been really supportive and always treated me as a person and not by my gender. I've always been made to feel included, it isn't a scary place to be so don't worry about what other people 'might think'.
Never let anyone dampen your inner fire, chase your passion and build a life that you can't wait to wake up to everyday.