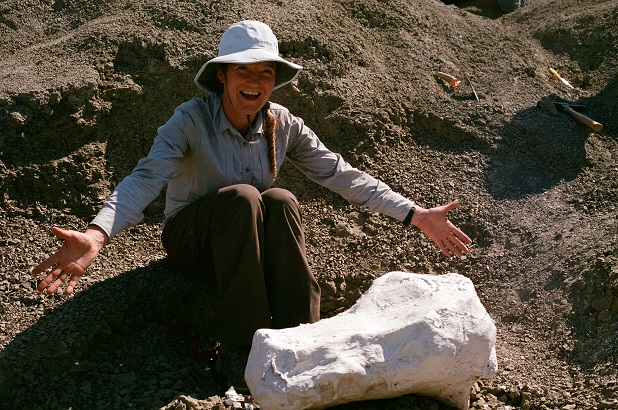 Palaeontologist with the Royal Saskatchewan Museum
Be ambitious. Work hard for what you want, and don't be afraid to speak your mind when you need to.
My job is to help collect, prepare, curate, study and educate people about the 93 million years' worth of fossil resources in the province of Saskatchewan.
WHY DID YOU CHOOSE THIS FIELD?
I decided to be a paleontologist (someone who studies ancient life) when I was four years old, after I saw my first dinosaur skeleton at a natural history museum. As a child, I wanted to know everything there was to know about dinosaurs. In high school, I became fascinated by the concept of evolution and how it applied to the fossil record. Paleontology requires a great deal of imagination and creative thinking, which is one aspect that has always appealed to me. I also love the thrill of discovery, which is why field work is my favorite part of the job.
WHAT DO YOU LOOK AT & THINK, "I WISH YOUNGER ME WOULD HAVE KNOWN THIS WAS POSSIBLE?"
Last year, I was awarded the YWCA's Women of Distinction Award for Science in Regina, SK. As a teenager, I would never have thought that remotely possible. I was a shy, withdrawn child/youth who took a long time to reach my potential. Gaining confidence does not come easily for everyone, but learning to work for it makes all the difference.
WHY DO YOU LOVE WORKING IN STEM?
I love the thrill of discovery. Whether it is discovering a new fossil in the field, or a specimen in a museum drawer, or making some amazing connection between two facts, I love that electric tingle of excitement. Passing that excitement on to others, whether they are students or members of the public, is almost as good! I am also an avid outdoors person and nature lover, and I love the fact my job is mainly outside in beautiful, remote places in the field season.
BEST ADVICE FOR NEXT GENERATION?
Be ambitious. Work hard for what you want, and don't be afraid to speak your mind when you need to. Learning to be constructively stubborn is hard if it is not in your nature, but it is a valuable skill to have.
"Intelligence without ambition is a bird without wings." - Salvador Dali