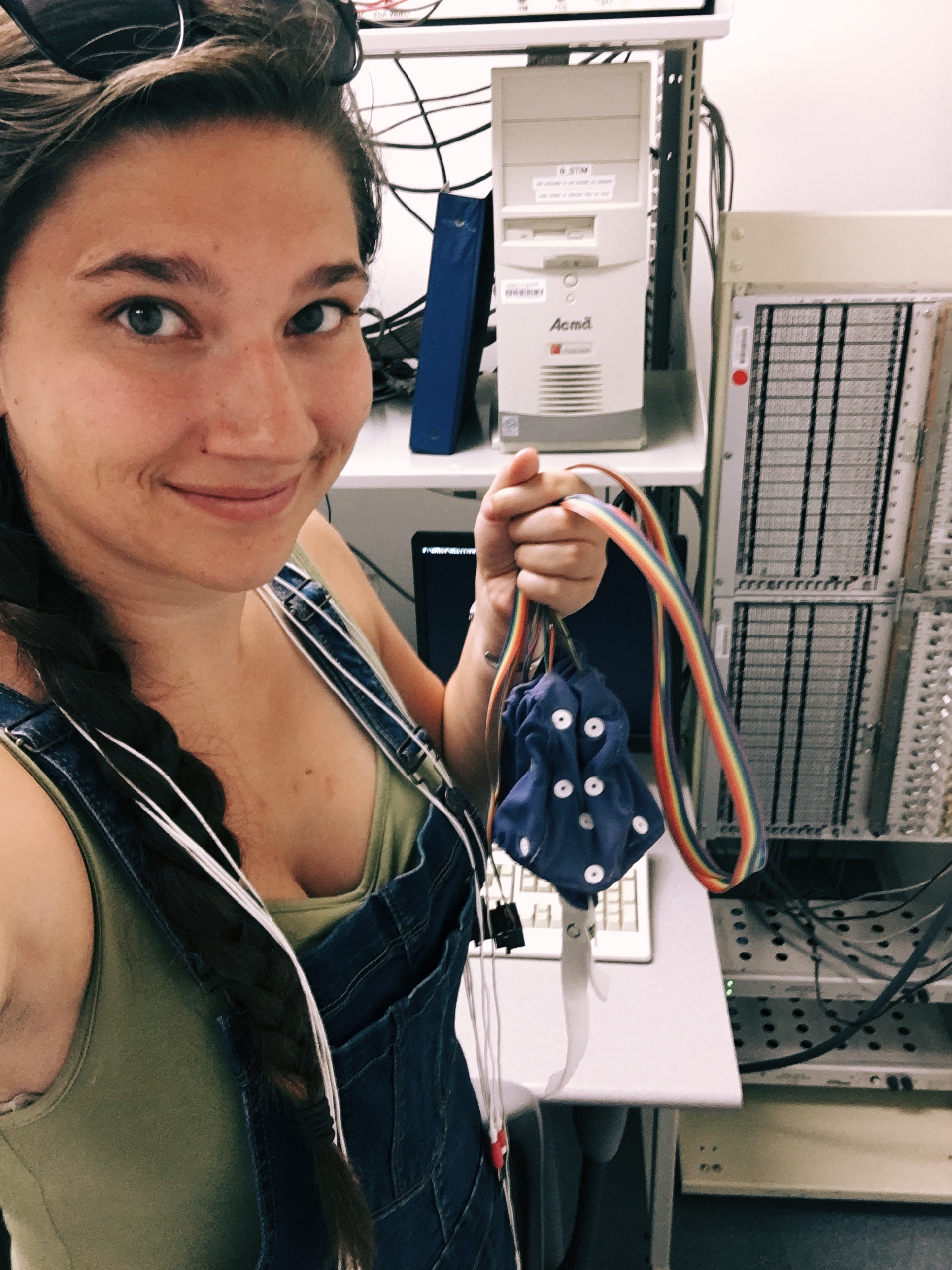 PhD Student in Cognitive Science at UC San Diego
STEM, and research in general, is great because you get to pursue what you are curious about.
I research how we silently read sentences using EEG to measure electrical signals from participant's brains. I am interested how we integrate what words sound like when we are reading silently in our heads. I spend my days running people in experiments, analyzing data, working on computer models of the data, and reading more about the field. I also TA for college courses in Cognitive Science and have helped teach everything from the Cognitive Consequences of Technology to Learning, Memory, & Attention to Information Architecture in Design.
WHY DID YOU CHOOSE THIS FIELD?
Both of my siblings (and likely my father) have dyslexia. My research into how words sound is integrated in silent reading will hopefully allow me to learn more about how their brains work differently and advise how we can better teach dyslexics how to read in a way that works within how their brains processes words and sounds.
WHAT DO YOU LOOK AT & THINK, "I WISH YOUNGER ME WOULD HAVE KNOWN THIS WAS POSSIBLE?"
When I was younger, I didn't know that you could be a researcher. I always said I wanted to be a teacher, but I told my mom that I really just wanted to stay in school forever. Now starting my fourth year in my PhD program, it really does feel like I found a way to stay in school forever. I found a job that lets me be a lifelong student, not only learning about things that other people discover, but getting to be the first person to know a piece of new knowledge in my own research.
WHY DO YOU LOVE WORKING IN STEM?
I love working in STEM because I get to go to work everyday and try to answer the questions that I stay up at night thinking about. I used to write questions like "which language do bilingual people think in?" on sticky notes in high school, and now I have colleagues that study those kinds of questions.
BEST ADVICE FOR NEXT GENERATION?
STEM, and research in general, is great because you get to pursue what you are curious about. If you've ever thought, 'I wonder how that works' from how language works in the brain to how caterpillars become butterflies to how Siri can tell what you're saying to how medicine is made to how we know that some planets are balls of gas... all of that is STEM. It's so empowering to be in a field and a job where you can ask a question and the people around you want to give you the tools to figure out the answer.
"The good thing about science it that it's true whether or not you believe in it" -Neil deGrass Tyson