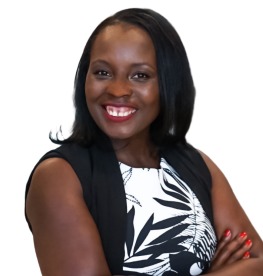 Senior Computer Systems Analyst
Don't be afraid to ask someone to be your mentor if they are in the career you want to pursue.
I inquire about business needs, research the systems a company uses, plan changes and improve their process,help fix technical problems and train others on how to use the systems. Sometimes I write instructional manuals and provide direction on future upgrades.
WHY DID YOU CHOOSE THIS FIELD?
Working hard has always been a part of my DNA having seen my parents struggle to educate us. I wanted a career that would move family from poverty and give my parents a better life where they did not have to struggle so hard for their basic needs. Initially I wanted to be a lawyer like any girl that grows up in an African home but we could not afford the cost of law school. My dad was very influential in my career choice. He always encouraged me to take sciences and maths. When my high school started offering computer classes he encouraged me to take computer classes. This early exposure to computers eventually drove my passion for Information Technology. In school I was part of the debate club which built my confidence in public speaking a very important skill in my career as I constantly have to present to customers and provide training. I was also part of leadership clubs in school and college that helped me in building self confidence. Mentors have been very instrumental in helping shape my career path and grow in my profession. With every new position I always asked someone that had either been longer at a company or experienced in the same position I was in to be my mentor. This helped me grow my knowledge and skills and progress faster in my career. I also have a bachelors in Business Administration with a minor in Healthcare Administration and a masters in Computer Information Systems. I enjoy business processes and prior to becoming a Systems Analyst, I held various roles in the manufacturing industry that gave me exposure on processes from the bottom up while collaborating with various departments. A good understanding of company's business processes is what eventually led to my current role as a Computer Systems Analyst
WHAT DO YOU LOOK AT & THINK, "I WISH YOUNGER ME WOULD HAVE KNOWN THIS WAS POSSIBLE?"
Learning about personal finances, saving for retirement. I learned to save money at a young age but did not know the importance of 401ks or IRAs. I wish I had started investing in my retirement plan the first day I started working and not wait later in my career.
WHY DO YOU LOVE WORKING IN STEM?
Learning new things. There is never a day I don't learn about a new technology, or a new way to do things. This is what makes it fun for me. I wake up everyday excited to know what changes are happening in technology and how I can help my customers. My greatest joy is introducing new technology tools and seeing the efficiency it adds to my clients business processes. I also enjoy the option of being able to work in any industry as my skills are applicable in any company or organization whether for profit or non profit. The schedule flexibility means that I can balance my schedule to be a mum, a wife,an entrepreneur or meet my client's needs at work. Am off most weekends which means I can spend time with my family and travel.
BEST ADVICE FOR NEXT GENERATION?
Don't be afraid to ask someone to be your mentor if they are in the career you want to pursue. They will help guide you and remove years of mistakes and missed opportunities in your career path.
Your time counts more than you can ever imagine and your story is never too boring to share. - Myself