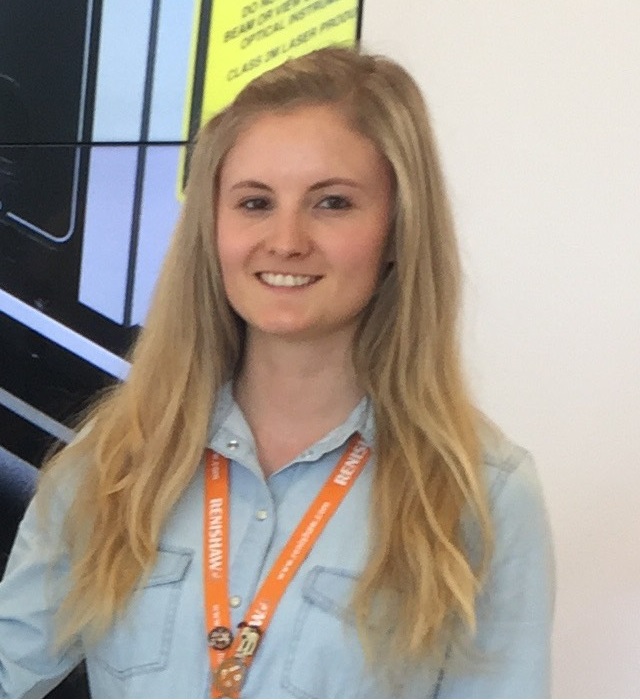 Industrial Design Engineer,
Renishaw
Engineering is exciting and it is for everyone.
As an Industrial Design Engineer, I focus on optimising the fit, form and function of our products, from precision measurement devices to metal 3D printing machines.
Some of my day to day activities include sketching out ideas and concepts, looking at how people use products, design development and 3D modelling (CAD).
WHY DID YOU CHOOSE THIS FIELD?
I didn't always know I wanted to be an engineer, but I had always liked to solve problems and make things. At school I enjoyed maths, art, science and design technology and wanted to go into a career where I could combine these subjects – this is when I started to look at engineering and the many different types.
I decided to go to university, and it was from going to a lot of engineering open days that I found the Product Design Engineering course to be a perfect fit for what I wanted to do – it combined all of my favourite subjects, allowed me to use my creativity and was both practical and theoretical. I really enjoyed my studies at university and wanted to find a career where I could apply a lot of what I had learnt on my course and be a part of the product design/engineering process.
I joined an engineering graduate scheme at Renishaw as it gave me the opportunity to do different placements around the company, and it was during this time that I found that the Industrial Design Engineer role had the mix of product/industrial/mechanical design engineering that I was looking for.
WHAT DO YOU LOOK AT & THINK, "I WISH YOUNGER ME WOULD HAVE KNOWN THIS WAS POSSIBLE?"
Gaining a first class Master of Engineering degree from Loughborough University and starting my career as an engineer – younger me would have thought this was something for only boys to go into (not girls) based on stereotypes I had seen and heard about.
WHY DO YOU LOVE WORKING IN STEM?
I love being able to make a difference to the world we live in – As an engineer, I enjoy coming up with ideas and designing solutions to solve problems.
I also aim to show younger girls and women that there are female engineers in the industry and give them a role model to look up to. I want them to be excited about engineering too, and I love that I am a part of the breaking down of engineering stereotypes.
BEST ADVICE FOR NEXT GENERATION?
Engineering is exciting and it is for everyone - ignore the stereotypes as they aren't true! There are so many different paths and roles to look at and you can really make a difference in the world in STEM.

If you are determined that you want to do something (such as pursue STEM), carry on and never give up despite what others may say – this is about what you want, not what other people want or think.
"Don't let anyone rob you of your imagination, your creativity, or your curiosity. It's your place in the world; it's your life. Go on and do all you can with it, and make it the life you want to live." - Mae Jemison (Engineer, Physician and NASA Astronaut)
and
"The time is long overdue to encourage more women to dream the possible dream." Sheryl Sandberg (COO of Facebook and Founder of Leanin.org)