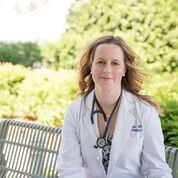 Director, Breast & Gynecologic Cancer Research Program,
Sarah Cannon Research Institute
We restrict ourselves too much. We take "no" as answer entirely too often. If someone says "no", ask someone else.
I'm a physician who treats people facing a diagnosis of breast and gynecologic cancers. In addition to providing standard therapy options for these patients, I also run our clinical trial research program. I am involved in drugs from first-in-human phase I development all the way to registrational phase III trials. I am privileged to have many clinical trials to offer my patients to advance their care and the care of people to come. I also manage the breast and GYN clinical trial menu across our Sarah Cannon's strategic sites in Kansas City, Florida, Tennessee, etc.
WHY DID YOU CHOOSE THIS FIELD?
I was one of the likely annoying children who from a young age in kindergarten said I was going to be a doctor. I loved science, I loved solving problems and I wanted to help people. My mom was diagnosed with breast cancer when I was in middle school and luckily had very early stage disease and was cured. However, at that point I wasn't really interested so much in cancer. I went into medical school thinking I wanted to be a pediatric neurosurgeon and after experiences shadowing and doing internships during the summers, I realized that I really loved the dynamics of shared decision making with adults. I loved being able to give them all the information and help them be confident in the decisions they were making for their care; give them as much peace and control as they could have in an otherwise uncontrollable situation. I then became quite interested in cancer again and once interested in cancer I knew breast cancer was where I wanted to be.
WHAT DO YOU LOOK AT & THINK, "I WISH YOUNGER ME WOULD HAVE KNOWN THIS WAS POSSIBLE?"
I heard from many people along the way "you can't have it all". I think that's wrong. You can have everything you want. Being a wife, mom, daughter, scientist, doctor, and researcher is a juggle from hour to hour or day to day for sure - but you can have it all. Don't let someone else tell you what is possible for yourself - go out and create the life and roles you want. You don't have to fit a mold to be successful, in fact those who create their own mold instead of laying in someone else's are happier and often more successful. I've stood on national and international stages speaking to thousands about breast cancer advances and I've also had to skip conference calls to just sit on the floor and play with my daughters. Set boundaries, strive for more, achieve what YOU want.
WHY DO YOU LOVE WORKING IN STEM?
The thing I love about science is that its always changing - we make advances every single day. What gets me up every morning is the excitement about a new drug in clinic that is benefitting my patient. The possibility and reality of someone getting a treatment that is better than what is currently available. I live for the great scan reports for my patients!
BEST ADVICE FOR NEXT GENERATION?
Don't let anyone tell you "you can't". You CAN do anything you want to. It may not be easy, but you CAN. We restrict ourselves too much. We take "no" as answer entirely too often. If someone says "no", ask someone else, and maybe 100 times, then do it anyway even if you never get a "yes".
Go where your passion is, if you find something interesting - learn more. If you make your work your passion, you won't ever work a day in your life. That old saying is so true. Do what you love. Life is too short.
"Try...for who knows what is possible."