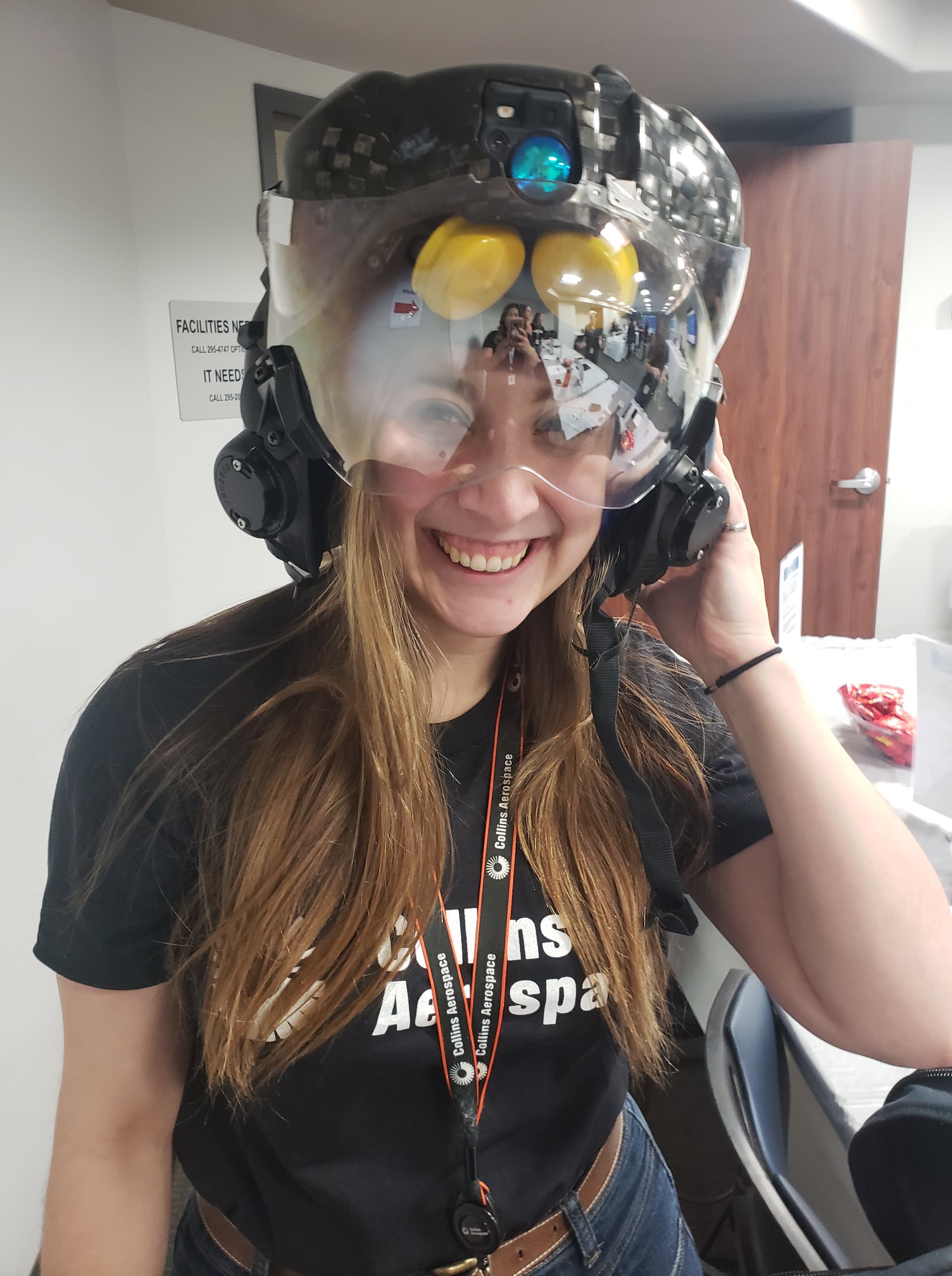 Manufacturing Engineer, Collins Aerospace
You are strong. You are capable. You are powerful. You are courageous. You belong in the space you occupy.
Every day is different for me. As an industrial engineer, my focus is on improving processes and helping people. This could be anything from crawling around the floor installing a vacuum system so my people don't have to worry about debris and dust getting into the product they're building, to working on the design and manufacturing of the next commercial synthetic vision system, helping pilots combine what their visible eye can see, what cameras can see, and what sensors and other applications can see to help pilots navigate safely and successfully.

Really, my job is asking "what if". Finding a problem and coming up with new ways to solve it or make something faster or better.

No day is ever the same and so it keeps me on my toes, which is how I like it. I am responsible for making sure my people can get product out the door safely, comfortably, and efficiently.
WHY DID YOU CHOOSE THIS FIELD?
I tend to do things because people tell me I can't: I had enough people tell me I couldn't be an engineer for one reason or another so I decided I was going to prove them wrong. I've always loved problem solving and figuring out how something works, whether that's a pen or a large group of people making decisions. I also participated in FIRST in high school and I loved the whole engineering process of brainstorm-try-prototype-fail-retry-fail-retry-success! It was a really hard lesson to learn for me that everything I do is probably not going to work on the first try - I'm a little bit of a perfectionist so learning how to fail was really hard but I am SO glad I've become comfortable with it.
WHAT DO YOU LOOK AT & THINK, "I WISH YOUNGER ME WOULD HAVE KNOWN THIS WAS POSSIBLE?"
I spoke at Girl Day on the Hill in February 2020 in support of engaging more young women in STEM on behalf of DiscoverE. Never ever ever did I expect to be able to speak to those who lead our nation about my passions and my dedication to education and inspiring the next generation. Now that I've done that, I've been spurred on to keep going - continuing my efforts in STEM education and promotion.
WHY DO YOU LOVE WORKING IN STEM?
Getting everyone on board to make a change! Everything I've implemented has been something my people are on board with. I get their input and their feedback before I put anything out on the floor so I know that there's a higher chance of it being adopted readily vs. being shoved off into a corner and never used. I did a floor relayout in Richardson and because I got so much initial input from my people on what they would want the floor to look like or what improvements they could see, I was able to go to them with a drafted design and the only things they asked for were an additional table and a couple more panels. Keeping everyone in the loop and making their lives easier is so rewarding to me.
BEST ADVICE FOR NEXT GENERATION?
Do not be afraid to be aggressive. Aggression shows passion. This is something you should never try to filter or hide because you are afraid of what other people will think of you. You are not simply "lucky." You have worked incredibly hard. Do not diminish your successes. Strive for success, always.

But, remember failing is okay. Failing and falling will teach you more about yourself than immediate success. You are strong. You are capable. You are powerful. You are courageous. You belong in the space you occupy. Do not let anyone convince you otherwise.
"People say nothing is impossible, but I do nothing every day." - Winnie the Pooh