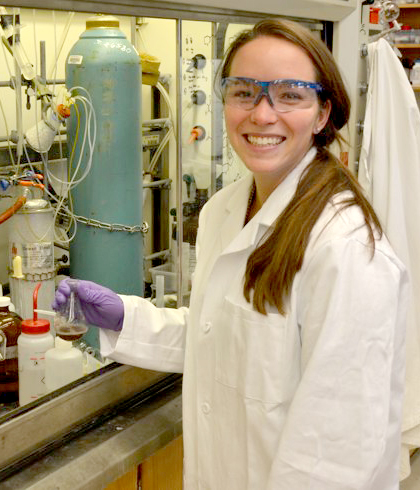 Organic Chemist, Indiana University
You will find your passion (or passions) - until then, we are here supporting you!
I construct molecules made up of carbon, hydrogen, oxygen, nitrogen atoms using a variety of chemical reactions.
More specifically, I synthesize molecules found in Nature to explore their biological and physical properties.
WHY DID YOU CHOOSE THIS FIELD?
Growing up, I always wanted to help others. During my coursework, I found math and chemistry to be my favorite subjects. In college, I had an opportunity to shadow phenomenal chemists and medical doctors. It wasn't until late into my bachelor degree did I realize organic chemistry combined both of the subjects and organic chemists help make important medicines for both people and plants!
WHAT DO YOU LOOK AT & THINK, "I WISH YOUNGER ME WOULD HAVE KNOWN THIS WAS POSSIBLE?"
I wish the younger version of me would have known how confident she would be come as an expert in her field. Younger me never anticipated earning my Ph.D. and accepting a job at a top agrochemical company that is working on state-of-the-art research!
WHY DO YOU LOVE WORKING IN STEM?
I love working in STEM because I am always learning something new and solving very difficult problems. STEM fields are very interdisciplinary which means I have the opportunity to learn biology, physics, and computer technologies!
BEST ADVICE FOR NEXT GENERATION?
We need women like you in STEM fields. Our unique perspectives and backgrounds diversify our fields which will allow the scientific community to continue discovering important breakthroughs that will benefit people on a global scale. At this stage, be patient: explore every curiosity, opportunity, and passion you have. You will find your passion (or passions) - until then, we are here supporting you!
"A pessimist sees the difficulty in every opportunity; an optimist sees the opportunity in every difficulty." - Winston Churchill