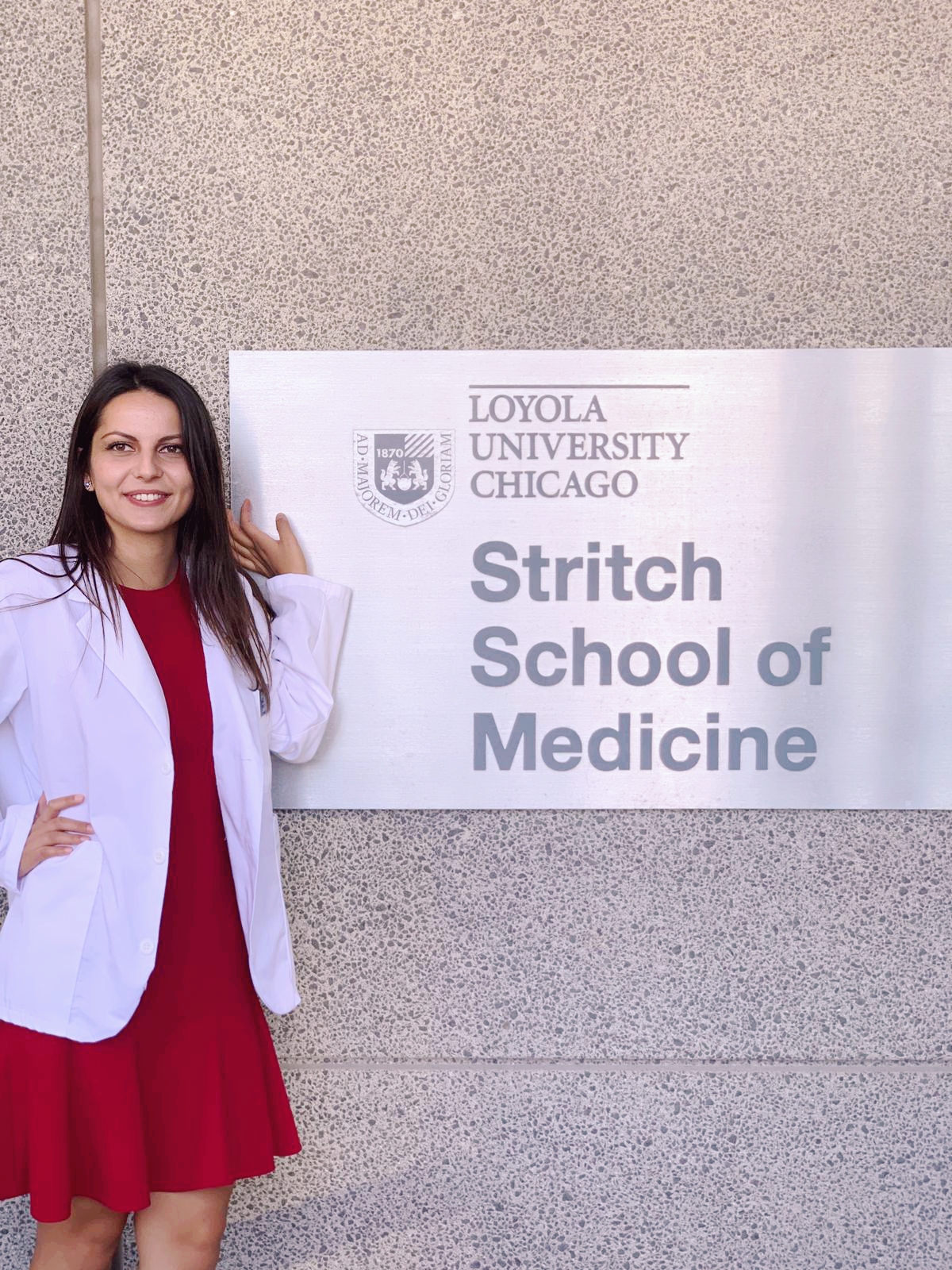 Medical student at Loyola University Chicago Stritch School of Medicine
It is not as hard as they will tell you it is! Don't let them scare you.
During my first year, I took a variety of science courses like physiology and immunology. Through our patient-centered medicine course we learned how to conduct patient interviews and physical exams, as well as how to approach challenging subjects with patients in a sensitive and caring manner. While at school I shadow physicians at the hospital, conduct research in the cardiology department, and volunteer in the Chicago area.
WHY DID YOU CHOOSE THIS FIELD?
I was introduced to medicine through my father's practice as a cardiologist in Albania. In a country where technology was limited, my father was able to provide comfort, answers, and meaningful care. The positive difference he made in our small community made a lasting impression on me. I wanted to provide care for patients the way he did—to provide comfort in times of pain, answers when faced with uncertainty, and practical aid to those suffering. Throughout my education, I explored aspects of medicine by observing clinicians, volunteering at hospital settings, and conducting clinical research at the National Institutes of Health (NIH), which further reinforced my motivation to become a physician. In addition to serving patients, I enjoy the collegial atmosphere of the medical profession, the intellectual challenges, and the problem-solving nature of clinical cases.
WHAT DO YOU LOOK AT & THINK, "I WISH YOUNGER ME WOULD HAVE KNOWN THIS WAS POSSIBLE?"
Aside from academics, I am appreciative of my success in being able to comfortably embrace both aspects of my cultural identities. I wish younger me would have been more free to be herself and not feel pressured to fit what I thought was an American identity. After meeting friends from diverse cultural backgrounds, I learned that my cultural background made me unique and helped me bring new perspectives. Exposing myself to diverse cultures has taught me a lot about myself and others, and helped me become more culturally aware, which is especially important in the healthcare setting.
WHY DO YOU LOVE WORKING IN STEM?
Despite the rigor of medical school courses, I love diving into my class lectures each day and learning about the beautifully designed biological systems of the human body. I look forward to becoming a physician and having a more complete understanding of overall health so I can support patients at vulnerable times and serve as an advocate and resource for family, friends and the larger community as well.
BEST ADVICE FOR NEXT GENERATION?
It is not as hard as they will tell you it is! Don't let them scare you.
"When you want something, all the universe conspires in helping you to achieve it." ― Paulo Coelho, The Alchemist