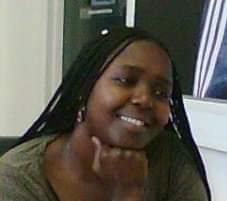 Esther Njoki Mwangi Maina
Senior Lecturer, Department of Biochemistry, University of Nairobi
Science is fun and enjoyable especially when we see it addressing issues that affect our societies.
My job involves teaching of Biochemistry, Molecular Genetics and Molecular Biology and Techniques to an array of students; both at the undergraduate and postgraduate levels. I am also involved in the supervision of both master and PhD students in my research areas of interest which include Molecular Genetics of Cancer, specifically in the African population, Ethnomedicine; specifically anti-Cancer Medicinal plants of Africa. Out of class, I am involved in curriculum development for our courses, both at my college of Health Science and college of veterinary medicine. I also mentor my students by offering pastoral care, and advise on academic issues and their upward progression towards successful careers in Science. I support the University's initiative in outreach programs to young Kenyans in high school, specifically in Girls' schools where we run mock Research clinics, that introduce the girls to "application of Science to Kenyan problems". Recently, was involved in the IVVN anti- rabies vaccine creation and testing at Ole Tipis Girls High school, in the marginalized region of Narok County. My job is most fulfilling especially when I see my undergraduate students choosing postgraduate studies in Africa-Relevant issues such as disease and food security. I love the meaningful interactions with high school girls, and it is a joy when some of them enroll in STEM subjects at the University.
WHY DID YOU CHOOSE THIS FIELD?
From a young age, at primary school level, I desired to address issues that were evident in my village and subsequently town and country. Among some relatives, I lost my grandfather to non-hodgkins' lymphoma, at the time all i understood was that he died of Cancer. I could not understand why they weren't able to detect it earlier and treat it before it killed my greatest friend, my grandpa. Over the years, I lost my mother and aunties to this scourge and by the time I was in highschool, I had resolved to understand why so many of my relatives were dying of cancer, to a point where villagers would advise us that we were cursed! To that end and with the support of my highschool Science teachers, and subsequently University teachers, I curved a niche in my career towards understanding and resolving Cancer, especially in Africa and specifically in my family. My University Prof in pharmacology unit, Prof Paul Thornalley, encouraged me to seek non-toxic, affordable medicine for Cancer, and how food (Vegetables) could hold a potential preventative measure against Cancer, and even if explored further, could provide anti-Cancer metabolites that could be researched on in the emerging area of Natraceutical Research. Subsequently at PhD level, I used a set of molecular biology techniques to elucidate the signalling pathways of the familial Cancer syndrome, VHL disease. Over the years I have continued in my research on understanding the Genetics of Cancer, and once I returned to Kenya, to understand the Genetics of Cancer in our population. I also set up an Anti-cancer medicinal plants' Research work, where I am involved in Proposal writing and supervision of my postgraduate students in the undertaking of this most promising Research area, especially for our resource-constrained part of the world.
WHAT DO YOU LOOK AT & THINK, "I WISH YOUNGER ME WOULD HAVE KNOWN THIS WAS POSSIBLE?"
To date, I am most happy in my understanding of Cancer, moreso familial cancers, I feel blessed to have been involved in dissemination and counseling of people at risk, preventative measures and subsequent Research on some African plants that promise a new scope of Anti-cancer medicine which is non-toxic and is affordable to our people. Together with other eminent Scientists in their fields of Cancer Research, I have been involved in scientific research publications which have gone on to enhance our knowledge in Cancer but also advising policy on matters cancer especially in Kenya and AFRICA as a whole. I am glad to have answered some of the questions that troubled me from a young age. Of importance, I am happy in the knowledge that my research work has pushed forward the understanding of Cancer; and my research work in Medicinal plants is important especially in their use as Anti-cancer preventative Medicines.
WHY DO YOU LOVE WORKING IN STEM?
I love working in STEM because I have come to the realization that many of the issues that adversely affect people can be solved by STEM. Specifically in Kenya and Africa, food security and disease remain a big problem. The realization that my research in disease ultimately, influence my society positively is most fulfilling and my mentoring of young Scientists gives me satisfaction that there will be good Research even after I am gone.
BEST ADVICE FOR NEXT GENERATION?
My advice to the young women is to seek to understand the issues that adversely affect their communities and to know that many of these can be addressed by Science! So they can positively influence their societies with their scientific knowledge. Also, contrary to popular belief that women can't be Scientists or can't have a full life, some of us are wives and mothers and hold key positions in our Scientific careers, it's all a matter of planning and executing! Science is fun and enjoyable especially when we see it addressing issues that affect our societies.
Where there's a will, there's hope!