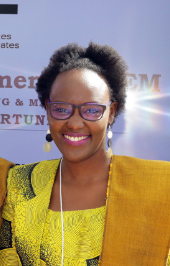 Lecturer of mathematics at the Rwanda Institute for Conservation Agriculture (RICA)
And - Researcher at the African Institute for Mathematical Sciences (Ndifon's Lab)
Yes you can. You can be a scientist, you can be an engineer or a Mathematician. You can be anything you dreamt of and beyond.
I am an infectious diseases modellers. I apply statistical and mathematical models to data to answer questions of public health interest. For instance, I am currently part of the COVID-19 Rwandan Task Force. My role within the team is to develop mathematical models for COVID-19 transmission and produce predictions that can inform policy-makers. Prior to the pandemic, my research focus was on developing a model that could mimic the long-term behaviour of the immune system of HIV-treated patients.
WHY DID YOU CHOOSE THIS FIELD?
I loved mathematics from a tender age. Though I majored in Mathematics and Physics in high school, and later on in Applied Mathematic in undergraduate, I still had no idea what I will/could do once I graduate. Then I won a full scholarship to attend a postgraduate program in Mathematical Science, and oh boy, ..., then suddenly I was exposed to the large variety of fields I could join! Though I started with a MSc in Environmental and Geographical Sciences, where I studied the patterns of Southern African droughts, I knew that I had always wanted to make a concrete contribution to people's lives, thus I chose to pursue a PhD in Mathematics with application in epidemiology.
WHAT DO YOU LOOK AT & THINK, "I WISH YOUNGER ME WOULD HAVE KNOWN THIS WAS POSSIBLE?"
My PhD journey taught (and is still teaching me) that mistakes and rejections are part of the journey (perseverance); that the worse failure is to fail to even try (fear); seeking help when you need it is a sign of strength, not a weakness; and that believing in your own abilities and working consistently is more important than being smart.
WHY DO YOU LOVE WORKING IN STEM?
I love teaching maths because I want to change the status quo of absent-minded genius mathematics lecturer and give to my student more than just the theory. I want them to understand where they maybe use if ever, the concepts I teach them. I want them to understand their implication in real-life and give them that extra motivation to "want" to study maths. I don't want them all to be genius and be able to understand it all without sweat. But I want them to know that with dedication and hard work, maths is actually accessible to all...
BEST ADVICE FOR NEXT GENERATION?
To all young women reading this today, I want to say this: Yes you can. You can be a scientist, you can be an engineer or a Mathematician. You can be anything you dreamt of and beyond. Believe in yourself, develop your potential, and find a good mentor. A good mentor can lift you up, help you make tough choices and even speak cold truth to you when you need to be called out.
"Don't let anyone rob you of your imagination, your creativity, or your curiosity. It's your place in the world; it's your life. Go on and do all you can with it, and make it the life you want to live." - Mae Jemison