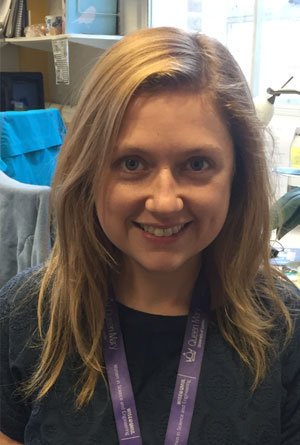 Postdoctoral Researcher, Maynooth University
I research the impact of obesity on immune system health. People who are living with obesity can have problems with their immune system which make them more susceptible to infection and at higher risk of autoimmune disease. Their is also now evidence that they will not develop the full protection from diseases in response to receiving a vaccine. Therefore, we want to understand what these immune system differences are so that we can help people who are livign with obesity to better respond to vaccines, fight off infection and to reduce their risk of developing an autoimmune condition. Our work focuses on both children and adults.
WHY DID YOU CHOOSE THIS FIELD?
I was a very curious child and my mid was blown (and still is) by questions about biology. This includes everything from how do Swallows know to fly to Africa from Europe in the autumn (fall), to how does a human develop from a tiny sperm and egg. I am absolutely fascinated by it and every time you answer one question it leads you to more and continuing to try and undertand the possible answers to more and more questions that become more and more specific or complicated is really what science is!
WHAT DO YOU LOOK AT & THINK, "I WISH YOUNGER ME WOULD HAVE KNOWN THIS WAS POSSIBLE?"
I am privileged in that I was raised to believe anything is possible, and my circumstances supported that privileged belief. It is actually as I have grown up that I have noticed the barriers I face as a woman, but that is where community comes in - raising each others voices, listening to those who are under-represented. The incredible support of other women in keeping my childhood beliefs alive in spite of obstacles is what I never imagined and am so grateful for.
WHY DO YOU LOVE WORKING IN STEM?
I love that I am excited by my work. Genuinely fascinated to uncover answers. I get the joy of sharing this passion with my colleagues and seeing the enthusiasm in my friends, family, children at outreach events when I tell them about all this exciting work. I also work better in a felxible and indepependent style which suits academic work.
BEST ADVICE FOR NEXT GENERATION?
We don't have enough role models. This can lead to a false sense that the only way to succeed is to be exactly like the very few "people like you" that you see in the positions you dream to be in one day. This is not true. You do not need to fit in ANY box to succeed in STEM. One of the coolest, most intelligent, most acclaimed and fascinating professors I ever met was a woman who never worked in academia full time throughout her whole career including PhD - she worked part time to suit the lifestyle she wanted for her own happiness and she was made full professor while her kids were still small! She still works part time and loves both her work and her life outside work. You can do it your way, it's just hard to sometimes as there isn't always easy-to-find evidence of the possibilities.
Be the change you wish to see in the world