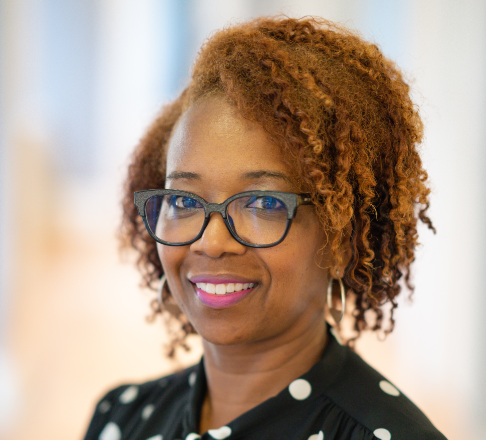 Digital Learning Specialist - Atlanta Public Schools
Learn as much as you can and explore as much as you can about multiple STEM opportunities.
I am a Digital Learning Specialist in the Department of Instructional Technology. I have the privilege and honor of teaching, training, and supporting teachers and students on the effective use of technology. Through my role as a Digital Learning Specialist, I am able to empower others to use technology to achieve all that they can imagine. I have the best job in the world and I love using technology to make a difference for other people.
WHY DID YOU CHOOSE THIS FIELD?
I actually stumbled into my career. I have always had Educational Leadership roles but when I graduated high school and was selecting a major in college, STEM wasn't as front-facing as it is now and it really wasn't stressed for females. My direct path to my current role came as a result of me being the K-12 Social Studies Coordinator for Atlanta Public Schools, and I happened to see this other department that was working with technology but they were also working with Curriculum and Instruction and I said that's what I want to do. Fast forward a few years and I am here now fully in the world of Instructional Technology and I absolutely love it!
WHAT DO YOU LOOK AT & THINK, "I WISH YOUNGER ME WOULD HAVE KNOWN THIS WAS POSSIBLE?"
I think about this all the time. I really wish that where I am now in my career (traveling the nation training and supporting educators and showing them how they can integrate technology into their classroom instruction) that my younger self knew that this was even possible as a career. I would have loved to be working in technology from the very beginning of my career. What's really exciting is when I get asked by an audience participant, how can I do what you do. I love sharing the possibilities that are available.
WHY DO YOU LOVE WORKING IN STEM?
The thing that I love most about working in STEM is that I see the instant impact that STEM and what I do has on educators and students. What I look forward to each day is that every day brings something new and exciting. Working in STEM there's always an element of excitement and you can't become stagnant because there is always something new, improved, and cutting edge to learn.
BEST ADVICE FOR NEXT GENERATION?
Learn as much as you can and explore as much as you can about multiple STEM opportunities because things change so fast and you will only be limited by the lack of exposure.
"She believed she could so she did!"