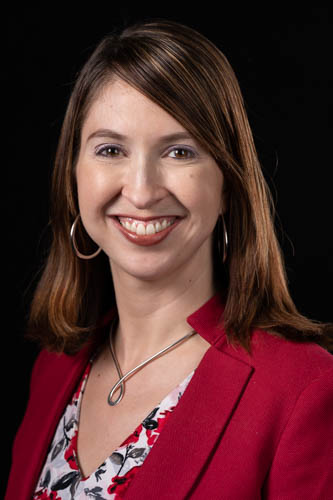 Gretchen Renae Winter, MD
Assistant Professor of Medicine, University of Alabama at Birmingham
You are enough. You are brilliant. You are determined. You are passionate. We need you. We believe in you.
I am a pulmonary and critical care physician. I specialize in critical illness in the ICU, as well as take care of patients with lung disease. I am a cystic fibrosis and bronchiectasis specialist. I do research in how to improve patient-physician communication and physician wellness. I also teach medical students, residents, and fellows, and mentor them in their careers.
WHY DID YOU CHOOSE THIS FIELD?
I was drawn to medicine because I am passionate about helping others and science. I specialized in pulmonary and critical care medicine because I get to think about complicated processes while also doing many hands-on procedures, and I love communicating with patients and their families and helping them through difficult situations. I decided to be an academic physician because I love teaching and seeing the joy people get from learning and growing.
WHAT DO YOU LOOK AT & THINK, "I WISH YOUNGER ME WOULD HAVE KNOWN THIS WAS POSSIBLE?"
Whenever a medical student or resident tells me they want to "grow up" to be like me it is both humbling and very encouraging. It reminds me that I am both good at my job in medicine and am relating well to others around me. I had so much self doubt growing up. I wish I had known that I was already enough and I would succeed.
WHY DO YOU LOVE WORKING IN STEM?
I love helping people! Science is incredible and beautiful and constantly evolving. Medicine is so intellectually stimulating, but what really keeps me going is knowing that science is actually improving my patient's lives. That end game of making a difference is everything to me.
BEST ADVICE FOR NEXT GENERATION?
YOU ARE ENOUGH. People may say you don't have what it takes. They may say (or you may say) that you aren't smart enough, or your brain just doesn't work that way. You may think the road is too long with too many distractions and hurdles. You may hear that science is for boys. Quite frankly, it's bull crap. You are enough. You are brilliant. You are determined. You are passionate. If you decide a career in STEM is what you want, there is no obstacle big enough to keep you from your goal without your consent. We need you. We believe in you.
"Any person who selects a goal in life which can be fully achieved, has already defined his own limitations." - Cavett Robert