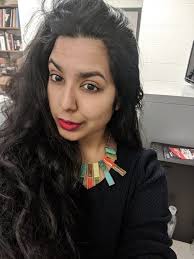 Do not shy away from the fascinating and fulfilling world of STEM.
As a product engineer, I am helping to extend the power of AI to the physical world.
WHY DID YOU CHOOSE THIS FIELD?
As a young girl growing up in India, I wondered how things came into existence and functioned as they did. I wondered how tiny particles integrate to create larger and operational bodies. I found my curiosity grew in aircraft when I was all of 5 years old, as I was too enamored by how such gigantic vehicles were designed and functional in the sky. That started my long love affair with aerospace engineering, bringing me to the United States to pursue my master's in aerospace engineering!

Even as an aerospace engineer, I dealt with different vehicle industries: aerospace, automobiles, and Hyperloop. However, I always found my true calling in the design and integration side of things and it has shaped me in several ways -- in the ways I think, perceive, and perhaps, even approach things in life - in tiny bits.
WHAT DO YOU LOOK AT & THINK, "I WISH YOUNGER ME WOULD HAVE KNOWN THIS WAS POSSIBLE?"
WHY DO YOU LOVE WORKING IN STEM?
I love the versatility that STEM offers. It does not restrict you to a particular industry or profession, but helps you to transition to practically any domain and still remain in the STEM field. As an aerospace engineer, I have worked across the spectrum of vehicles and I have performed job functions from design to manufacturing and from testing to quality and everyday has been exciting and fulfilling. You grow as a professional and as an individual in STEM.
BEST ADVICE FOR NEXT GENERATION?
Do not shy away from the fascinating and fulfilling world of STEM. With hard work, passion for your craft, and self-belief, you can absolutely thrive in the STEM world.
"When I stand before God at the end of my life, I would hope that I would not have a single bit of talent left but could say I've used everything you gave me." Erma Bombeck