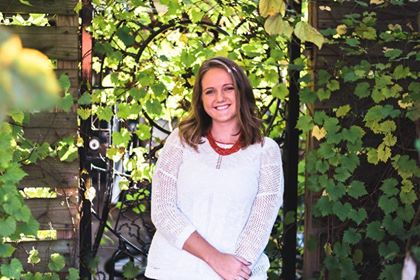 Never let anyone discourage you from a career in STEM for any reason.
I collect and analyze physiological data to develop algorithms for wearable devices like smart watches.
WHY DID YOU CHOOSE THIS FIELD?
I studied sound recording in college and loved the idea of recording music but realized I wanted a more challenging career my senior year of college. After making that decision I decided to use my science background to start doing research at my university and ended up presenting posters at two international conferences my senior year.
I quickly fell in love with research, computer programming and biomedical science which led to my current position as a research scientist here at MIT Lincoln Lab.
I love the work I get to do at MIT and knowing that the algorithms I help develop directly improve lives of individuals motivates me to do my best work every day.
WHAT DO YOU LOOK AT & THINK, "I WISH YOUNGER ME WOULD HAVE KNOWN THIS WAS POSSIBLE?"
Getting this position at MIT is by far my biggest achievement to date.
I was often bored in my audio recording college classes and wondered if I'd ever find anything that I not only loved doing but would also challenge me to use the full capacity of my thinking.
I received my offer letter from MIT on the day of my graduation and I was beyond excited.
Looking back at the level of research and development I was capable of when they hired me 1.5 years ago vs. now I am so proud of how much I have grown and learned.
WHY DO YOU LOVE WORKING IN STEM?
I love working in STEM because of the challenge it brings every day. In my position I'm always learning something new. A new programming language, a new way analyze a data, or a completely new aspect of research like creating 3D meshes for acoustic simulation. STEM challenges me in ways other fields have not and has allowed me to grow as a thinker and scientist in ways I never thought possible.
BEST ADVICE FOR NEXT GENERATION?
Never let anyone discourage you from a career in STEM for any reason. Not because "you're not smart enough" or because it's a traditionally male field. Men you work with will be intimidated by your intelligence and ambition but you just have to keep moving forward and keep being the best out there.
"That it will never come again is what makes life so sweet" Emily Dickinson
I see this as just a more poetic way to say 'carpe diem'. We don't get yesterday or today back, we have to live each moment for what it is and do our best to appreciate it.
As an ambitious young woman it's easy to wish away the days. Wishing you were living in a different city, wishing you were working for a different company or on a different project or wishing you were more successful in a different aspect of your life. It's important to have goals and work towards them but always be thankful and present in the here and now and appreciate how far you've come.