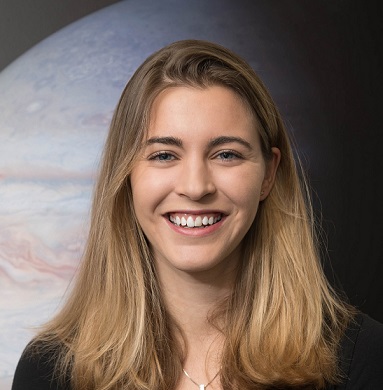 Business Analyst, Astroscale
Don't be afraid to forge your own path; the job you end up in might not even exist yet.
As a business analyst, my job is to figure out how we turn our mission (to clear space debris and create a sustainable space environment) into a viable commercial business. That means identifying potential customers and building a convincing argument as to why they should pay to bring down their space junk. Such services are fundamental to satellite operators to ensure the operational service of satellite constellations, limit collision avoidance maneuvers and mitigate collision events. I also work closely with our engineering team to make sure that the business strategy lines up with the missions we are developing.
WHY DID YOU CHOOSE THIS FIELD?
My journey into the space industry was somewhat non-traditional.

Before I started Astroscale I was studying planetary science but before that I worked in a bank! When I graduated university, I had no idea what I wanted to do and ended up spending four years working in finance. However, I had always loved space so I decided to leave finance and threw myself into a whole host of space organisations, from volunteering with the Planetary Society to becoming an active member of the Space Generation Advisory Council (SGAC). It was actually through SGAC that I was able to attend two conference in Germany in 2018, the Space Generation Congress and the International Astronautical Congress (IAC). It was at these events I met the team at Astroscale and learned about the business role I'm now in.

Luckily, my job at Astroscale allows me to combine my financial background with my passion for working in the space industry. The transition from finance to the space industry was challenging – I spent a year working full time at the Bank whilst studying astrophysics part time in the evenings at Queen Mary University of London and volunteering with multiple space non-profits. I was scared about leaving my safe career in finance behind, struggled with major imposter syndrome about not having the 'right' academic background and had no idea where this new path might take me. But I'm so glad I took the leap and haven't looked back since!
WHAT DO YOU LOOK AT & THINK, "I WISH YOUNGER ME WOULD HAVE KNOWN THIS WAS POSSIBLE?"
Working in the space industry! I'd always loved space and astronomy - I grew up reading science fiction and was inspired by Carl Sagan - but I naively thought that it could only be a hobby, not a real job. I had assumed that the space industry was just for astronauts, rocket scientists and engineers, and none of those roles really appealed to me. This is not true!! The space industry needs peoples with a huge range of skills - anyone can find their place in space.
WHY DO YOU LOVE WORKING IN STEM?
I find Astroscale's mission - to ensure space sustainability - very inspiring and motivating. The work we are doing here has meaning and we are taking proactive action to ensure that space can be used for years to come. I also love the challenge of the work we do here: both the engineering and the business case are really tough challenges to solve.
BEST ADVICE FOR NEXT GENERATION?
Put yourself out there and go for it! Don't be afraid to forge your own path; the job you end up in might not even exist yet. When I graduated from university, Astroscale had only just been founded!
"The harder you work, the luckier you get."