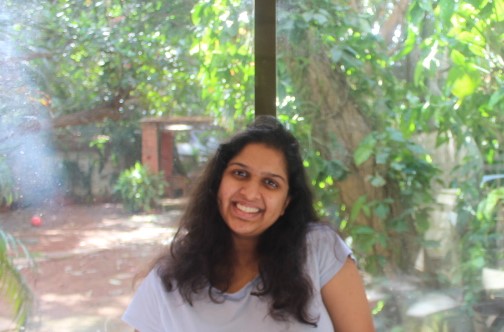 Founder of World Can Code
And - Year 12 of the International Baccalaureate programme at the Bombay International School
You have a worldwide team of women with you every single step of the way.
I have just started launching my company and I am trying to network and spread awareness about women in STEM in India.

The number of women in technology or STEM in India is at a low of 26%. It is up to our generation to fix this gap and provide an equal opportunity to both genders.
As Stewart Brand correctly stated, "Once a new technology rolls over you, if you're not part of the steamroller, you're part of the road."
We are beginning to change the world with the technology we are coming up with today. It is up to us to ensure the world moves along with us on our journey ahead.

Through World Can Code (WCC) we aim to teach and encourage women in India to pursue careers in STEM and help women in STEM to flourish and grow!
WHY DID YOU CHOOSE THIS FIELD?
When I was on holiday with my family 2011, we were in Boston and the (then new) iPad 2 had just been launched. My parents always wanted to expose my sister and I to the latest technology, ideas and experiences, and so we bought the iPad. After being a proud co-owner of one of the newest technologies I was determined to figure out how the device worked and as soon as we got back from the store I began setting it up for us to use.
The ease with which I maneuvered the device and the happiness I got out of figuring out this brand new technology gave me immense joy, which my parents never forgot. Since then, throughout my school life, I have always leaned towards subjects like computers, Information and Communication Technology (ICT), robotics and many other courses as extra curricular activities related to computers.
I did this as I realised that these were not just "subjects" for me to learn and move ahead with in school, but I genuinely enjoyed learning about such topics and coding and designing websites. It became a passion for me. Something I would find myself doing whenever I had free time and it relaxed me and made me feel at home.
WHAT DO YOU LOOK AT & THINK, "I WISH YOUNGER ME WOULD HAVE KNOWN THIS WAS POSSIBLE?"
Excelling at online courses and other topics that interest me because I have my own fuel to WANT to achieve the best I can whether or not other people know about it. Younger me always felt that if the people around you don't know what you've done then maybe it's not worth it, and this was a grave mistake because most of the things that I do are because I want to achieve them. Because I want to help young women like me find their passion. Because I want to show women that STEM is a male dominated subject worldwide, but why? We women can enjoy, excel and pursue it just as much as the next man.
WHY DO YOU LOVE WORKING IN STEM?
The adrenaline rush while finishing a code for a website. The spark of churning out weeks of coding and praying that it appears the way you want it to. The community of women who I have networked with and support, encourage and motivate me to complete my goals is one of the reasons I love being a woman in STEM. I wake up each morning knowing that post school, homework and all the other work I have- there's that one hour (at least) each day that I can code, and code anything I want. Design a website, an app- it's whatever I want to make it and this gives me immense joy and happiness!
BEST ADVICE FOR NEXT GENERATION?
When you look at statistics for women in STEM careers, you will see its dominated by men. Almost all STEM industries seem that way. You may get scared, shy, lose your confidence. DON'T!
You have a worldwide team of women with you every single step of the way. Unsure about something, find out a woman whos been in the same place you are, connect with her, reach out to her, she WILL help you. She's been there, she knows what it's like. Never believe that you are alone- because you aren't even if you may feel like it at that one moment in time, you are not alone.
I have personally been lucky enough to have a whole group of women, all of whom I have never met, but I know that they are people who I can count on, people who will support me, people who will be there for me- to celebrate my successes and to fight me battles beside me. And keeping that in mind is one of the most important things to do.
"It's okay to be a glowstick; sometimes we have to break before we shine" ~ Jadah Sellner