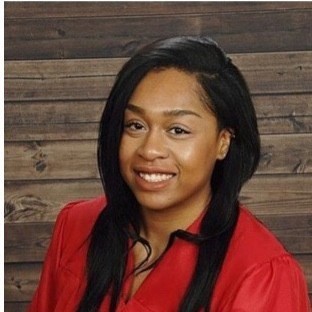 Graduate researcher, Case Western Reserve University
Just do it! Even if you are unsure about whether or not you would be good at it, try it out.
I am currently studying geochemistry and petrology. I study the chemical make-up of specifically Earth and sometimes other planets! In order to do this, I perform high pressure, high temperature experiments in order to recreate conditions that happen deep inside of planets.
WHY DID YOU CHOOSE THIS FIELD?
Geoscience was something completely unfamiliar to m, coming from Chicago where there's not a lot of "nature" to experience. I took an intro Geology class for the first time as a college freshman, and I was so fascinated by everything I learned. As I looked into it more, I found that there were so many opportunities for jobs and that there was a specific need for women and people of color in this field. Moreover, this kind of job would could potentially pay me to travel all over the world, something I am passionate about.
WHAT DO YOU LOOK AT & THINK, "I WISH YOUNGER ME WOULD HAVE KNOWN THIS WAS POSSIBLE?"
In one of my courses, we were tested weekly on memorizing different rocks and their chemical formulas. There were so many people in that class who had grown up with geology and nature, and had intimate relationships with rocks and minerals, whereas it was my first time learning about most everything I saw! I ended up getting the highest score in that class, and I was award a plaque and my name is now on the walls of the department for years to come. I had always undervalued myself and my abilities, but seeing that I was actually really good at something that I was pursuing (even better than all those around me) made me realize I am capable of so much more than I give myself credit.
WHY DO YOU LOVE WORKING IN STEM?
I love working in STEM because others don't expect it from me. I am a girly girl, and I am also a black woman. Those aren't typically things that come to mind when you think of someone working in STEM! And I enjoy defying those expectations, Moreover, STEM is a place where there's always an interesting finding around the corner. Whether its seeing what the results of the experiment will be, or reading something big about the discovery of a new galaxy. The universe is so big, and STEM makes room to explore it.
BEST ADVICE FOR NEXT GENERATION?
Just do it! Even if you are unsure about whether or not you would be good at it, try it out. There's so many different avenues to take in STEM; it's FAR from just math, physics and engineering. And find someone who can give you advice and keep up with your journey. They will be there for you will you struggle.
Everything you've been is not everything you'll be.