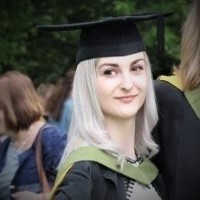 PhD Student, University of Manchester
You are capable of doing absolutely anything you set your mind to.
I am investigating a glutamate receptor as a novel drug target to treat cognitive impairment in schizophrenia (CIAS), which remains an unmet clinical need. Beyond my research, I am working toward delivering more effective public engagement through the LIVE with Scientists platform and, as a STEM ambassador, aiming to inspire younger generations to pursue a scientific career. My role as a Wellbeing Champion reflects my passion to promote mental health awareness and reduce the stigma around mental illness.
WHY DID YOU CHOOSE THIS FIELD?
Growing up alongside my twin sister, who has severe autism, deafness and learning difficulties, I have always been intrigued by the complexities of the brain and the problems that can occur. However, as a notoriously indecisive person, I chose to study a general Biology undergraduate degree to keep my options open. Whilst I loved studying the processes of life at all scales (plant science, perhaps less so!), I was most drawn to neuroscience-related topics. It was really my placement year, which I was fortunate enough to spend researching Alzheimer's disease at Eli Lilly, that cemented my ambition to pursue a career unravelling the mysteries of the nervous system!
WHAT DO YOU LOOK AT & THINK, "I WISH YOUNGER ME WOULD HAVE KNOWN THIS WAS POSSIBLE?"
Suffice to say, the notion of completing a PhD would have sounded impossibly daunting! I have always battled with confidence issues and imposter syndrome, viewing every good grade or achievement as a fluke and simply down to luck. There are definitely still days when I look around the lab at the incredibly proficient researchers and think, "how do I deserve to be here?" But I am getting much better at seeing my achievements – personal and academic – as the result of hard work and determination. So whilst my younger self would have lacked the confidence to even apply for a PhD, it just goes to show that a large part of conquering any challenge is summoning the self-belief that you can!
WHY DO YOU LOVE WORKING IN STEM?
I would be lying if I said there aren't days when scientific research feels incredibly frustrating and the temptation to admit defeat is strong! But I have always adored a challenge, and the excitement of making new, potentially life-changing discoveries never fails to keep me motivated when things get tough.
BEST ADVICE FOR NEXT GENERATION?
Quite simply, you are capable of doing absolutely anything you set your mind to. The barriers that stand in your way, whether internal or external, will only stop you if you let them.
"The important thing is to not stop questioning. Curiosity has its own reason for existing." - Albert Einstein