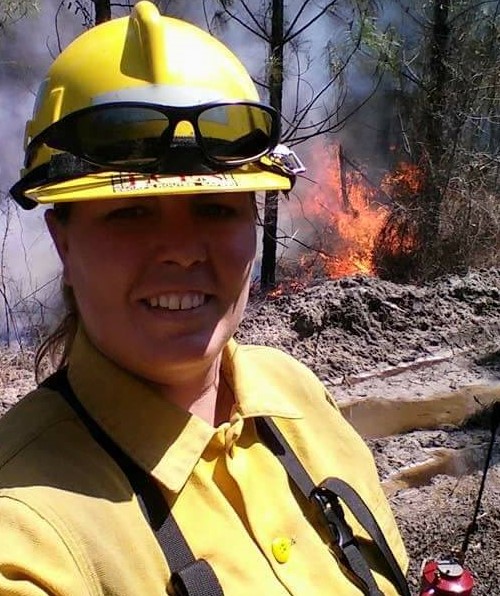 Working Lands for Wildlife Bobwhite Coordinator, Quail Forever
Get as much experience as you can!! Don't be afraid to ask about opportunities.
I work for a non-profit conservation organization called Quail Forever (QF). QF is dedicated to the conservation of quail, pheasants and other wildlife through habitat improvements, public awareness, education and land management policies and programs. I help coordinate a national initiative called Working Lands for Wildlife (WLFW) Bobwhite Quail, an initiative funded through the Farm Bill. The initiative's aim is to restore upland habitat for species such as the Northern Bobwhite, Gopher Tortoise, and Longleaf Pine Savanna. The conservation effort is supported by a large cast of partners comprised of United States Department of Agriculture's Natural Resource Conservation Service, State Wildlife Agencies, and other non-profit conservation organizations. The best part of my job is working with and training my staff of almost a dozen field biologists in eight states. I am fortunate to work with extremely passionate and hard working people.
WHY DID YOU CHOOSE THIS FIELD?
It has been quite a journey to get to where I am today so I guess I am going to provide a long answer. However, I do feel like I am in the field I am meant to be in. I grew up on a small farm at the back of a trailer park in Massachusetts that was adjacent to woods that had a pretty good trail system. I love to explore, and have always been drawn to wildlife. As an undergrad at Northeastern University (NU) I struggled to figure out what I was going to do. I had difficulty focusing on classes while playing Division 1 Field Hockey, but it taught me academic work ethic and project balance. In my middler year (NU is a five year school with work experience semesters), I was able to fit an animal behavior class into my busy schedule and that class changed everything. I ended up having to have hip surgery and had to retire from collegiate sports so that freed me up to pursue some of the lab courses I was missing. Needing to fill time, focus, and make some money, I obtained a work-study job in the biology labs which peaked my interest in natural history and wildlife. I attempted a double major in psychology and biology so I could work on undergraduate animal behavior research (which ultimately led to jobs as a zookeeper) and work in Northeastern's Center for Vertebrate Studies (NUVC- Dr. Gwilym Jones), which provided lab and field experience in wildlife. I took whatever chance I could to gain hands-on experience.

I stayed at NUVC for my Master's of Science where I chased mice (Peromyscus spp) in the western part of Massachusetts. I was able to travel the eastern part of the United States measuring mouse skulls in some of the greatest collections including Harvard and the Smithsonian. I dabbled in molecular work through my MS and collaborated with researchers at Tufts University (now at UMass Amherst- Dr. Stephen Rich). I had great mentors, both in academia and at Massachusetts Division of Fisheries and Wildlife (Dr. Tom French and Jim Cardoza) that provided me with excellent experiences. Upon graduation I worked for Boston University's (BU) Biology department as a laboratory instructor and at Wentworth Institute of Technology as an adjunct instructor. Through thesis, teaching, and contract work with mice, bats, and ticks I became interested in wildlife disease ecology and started to see a path. In between teaching sessions and on weekends I assisted with bat research through the Center for Ecology and Conservation Biology. Dr. Tom Kunz (THE Batman) and Dr. Marianne Moore (a grad student at the time) eventually encouraged me to leave the roost to pursue a PhD.

A graduate student recommended that I peruse abstracts from the meetings, list out what was most interesting and see if there were Universities or advisors that keep popping up. Worked! I kept seeing the University of Georgia (UGA) Warnell School of Natural Resources headline meeting abstracts and journal articles. I began to email Professors about opportunities and Dr. Michael Yabsley was at the top of the list and happened to have a few openings. I will always be grateful that he took a chance on me.

The project I was accepted to pursue was on Upper Respiratory Tract Disease in Gopher Tortoises. This project had everything: trapping, radio telemetry, molecular work, work with private landowners and state agencies, parasitology, ecology, habitat management… Everything! It was at the Jones Ecological Research Center where I could really be creative and find my niche. I also strong female mentors, Dr. Lora Smith and Dr. Sonia Hernandez, who showed me that I could achieve my goals. I can not stress the importance of having mentors that you can trust, that will challenge you, and help you through mistakes. Working with a candidate species for federal listing provided wonderful opportunities to meet people in various organizations and roles.
I eventually found my way to working with private landowners, which is the #1 way we are going to reach our habitat restoration goals with most species in the United States, particularly in the Longleaf Pine Ecosystem.

Upon graduation with my PhD, I accepted a job as a Farm Bill biologist with the Georgia Department of Natural Resources Private Lands Program. I was fortunate to be paid to focus my time on helping landowners manage their property for gopher tortoises, quail, and longleaf pine- a few of my favorite things.
WHAT DO YOU LOOK AT & THINK, "I WISH YOUNGER ME WOULD HAVE KNOWN THIS WAS POSSIBLE?"
Obtaining my PhD.

I was fortunate to attend a college prep school for most of high school. My time would have been better spent in advanced science classes than on the athletic field. I would cheer on younger me just as hard in the classroom as I would the hockey goal. Pursuing a PhD was not something I ever had as a goal when I went to college. I had average grades and didn't study as much as I should have. Academically, I didn't think I was capable. However, as my interests focused I realized that I would need a PhD to achieve the goals I had set for my career. I can't say I have regrets with my path. I believe I am right where I am supposed to be and every detour along the way created the professional that I am today.
WHY DO YOU LOVE WORKING IN STEM?
I look forward to learning something new everyday. I love reading the latest paper to add tools to our conservation toolbox. I love working with my colleagues to find ways to conserve the awesome ecosystems in which we live. Brainstorming solutions using the many resources available.

Wildlife conservation is a puzzle that requires professionals from many backgrounds to work together. One day I might be working with a Field biologist and landowner, the next filming an educational video with a zookeeper, writing an article with a magazine editor, or securing funds with the grant department.
BEST ADVICE FOR NEXT GENERATION?
Get as much experience as you can!! If someone invites you to work with them- go! Don't be afraid to ask about opportunities. Even if it doesn't seem like something you are interested in! Hands on experience gives you experience learning new skills and provides interactions with professionals that can lead to life changing mentorship.

INTERN. This can begin in high school!

Don't let anyone extinguish your passion.
"Don't let anyone rob you of your imagination, your creativity, or your curiosity. It's your place in the world; it's your life. Go on and do all you can with it, and make it the life you want to live." Mae Jemison