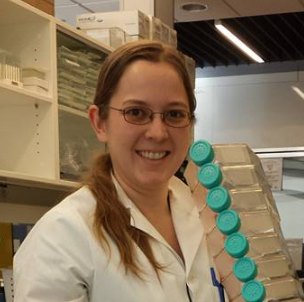 Postdoctoral Research Fellow,
University of Pennsylvania
Be who you want to be, and don't let anyone step on you or make you feel inadequate.
I research the impact the motion of calcium ions into and out of the mitochondria has on cancer development and physiology, particularly in the context of pancreatic cancer. Currently, there are few effective treatments for patients with pancreatic cancer, and outlooks are poor. However, the flow of calcium into the mitochondria appears to be required for cancer cell health and survival, but normal cells can survive without it. We may be able to block this calcium flow with new drugs development based on our research.
WHY DID YOU CHOOSE THIS FIELD?
Cancer is a terrible disease which has profound effects on patients and family alike. Like many people, I have witnessed many close family members and friends suffer from the ravages of this disease. When my father was diagnosed with cancer, I knew that I definitely wanted to work on developing therapeutic options to help improve outcomes for cancer patients. Despite being from a socioeconomically depressed area with limited educational opportunities, I became the first member of my family to earn a bachelor's degree and now have a PhD in Biomedical Sciences, which I use every day to work toward new solutions for cancer treatment.
WHAT DO YOU LOOK AT & THINK, "I WISH YOUNGER ME WOULD HAVE KNOWN THIS WAS POSSIBLE?"
Younger me, don't let anyone or anything tell you that you can't do something, because you can do whatever you put your mind to. I initially did not go to college straight out of high school because it seemed both expensive and impossible to me for socioeconomic and cultural reasons. After many years working in food service, I decided to go to college because a friend asked me "why couldn't you?", and I realized that I had no answer. Not only did I graduate from my undergraduate institution with highest honors, I went on to graduate school and now I am researching in a field I am passionate about at an Ivy League school.
WHY DO YOU LOVE WORKING IN STEM?
I love discovering new things that no one else has ever seen before. I enjoy sharing these new findings with others, as well as synthesizing ideas. I also take pleasure in applying novel technologies in the pursuit of knowledge. Most of all, though, I love that my work means something and may potentially help others in the future by improving treatment options, survival, and/or quality of life for those who are in dire need of hope.
BEST ADVICE FOR NEXT GENERATION?
Don't let anyone tell you that you can't do something. You are as smart and capable as the next person. Be who you want to be, and don't let anyone step on you or make you feel inadequate. You could easily be the one to develop a new treatment for cancer, a new computational algorithm, or a novel finding in any number of other fields… but you never know until you try.
"I have no special talent. I am only passionately curious." – Albert Einstein